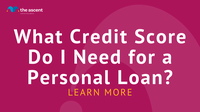 What credit score do I need for a personal loan?
You will generally need a score of at least 550 to 580 to be eligible for a personal loan.
Here is an overview of the impact of your credit score on your personal loan:
Below 579: Personal loans for bad credit
You can find personal loans for bad credit, but:
You will likely pay a higher interest rate than other borrowers
You probably won't qualify for larger loan amounts
If your credit score is below 580, consider increasing your credit score before taking out a new loan.
580 to 669: Personal loans for fair credit
If your credit score is fair, you can expect:
Better Interest Rates Than Bad Credit Loans
May not be able to borrow as much money as a borrower with good credit could
If you get a fair credit loan, make sure you pay it off as soon as possible. Otherwise, you'll pay quite a bit of interest.
670 to 739: Personal loans for good credit
There are a variety of lender options for personal loans for good credit. If you have good credit:
You will be able to borrow more money
You will be approved for a lower interest rate
Since lenders offer low rates for borrowers with good credit, it can be tempting not to shop around for rates if you have good credit. Don't skip this step: reducing your interest by just one percentage point can save you hundreds of dollars.
740 and more: Personal loans for great credit
You shouldn't have much trouble finding a personal loan with a credit score in this range. You will likely qualify for loans and be able to get a low interest rate from most or all of the best personal lenders.
Learn more here: What Credit Score Do You Need For A Car Loan?
Why your credit score for a personal loan matters
The eligibility for the loan depends on your credit score. A high credit score tells a lender that you are used to managing your money well. A lower credit score indicates you've been through a rough patch. A financial institution is naturally more comfortable lending to a borrower with a strong credit history.
The impact of your credit score for a personal loan
The minimum credit score required for a personal loan can get you in, but people with higher credit scores tend to have better loan options.
When you apply for a personal loan, your credit score helps determine if the lender approves your loan application. It also influences the amount of your loan and the interest rate offered by the lender. If you are a borrower with a higher credit rating, you are more likely to receive an attractive loan offer that includes a low interest rate and a repayment term that fits your monthly budget.
Think about what you would do if you had access to a low interest personal loan. Do you have a high interest credit card balance that you want to pay off or a loan debt that is holding you back? Whether you want to use a personal loan for debt consolidation or to install a backyard pool, it's easier with a good credit score. That said, even if your credit score is far from perfect, you do have options.
What to do if you have bad credit
If you have a bad credit score (FICO® score below 580) and you need a loan, there are several options available to you:
Increase your credit score
Apply for a bad credit loan
Pre-qualify with multiple lenders
Find a co-signer
Offer collateral (get a secured loan)
We'll cover each of them in detail below.
Increase your credit score
It is a good idea to get your score as high as possible before applying for a personal loan. Remember, the higher the credit score on a personal loan, the more likely your lender is to approve a lower interest rate.
The fastest way to increase your credit is to pay off your debt. You can also check for errors on your credit report. The three credit bureaus – Equifax, Experian, and TransUnion – are each legally required to provide you with one free copy of your credit report per year upon request. Read your credit reports and if you find an error, notify the credit bureau that issued the report.
Apply for a bad credit loan
There are lenders who offer personal loans to borrowers with low credit. If your credit score is below 600, you are considered "fair credit" or "poor credit":
Credit score below 579: seek personal loans for bad credit.
Credit Rating 580 to 669: seek personal loans for fair credit.
Even the best personal loan for bad credit will have a relatively high interest rate, but paying off your personal loan will increase your credit score. So the next time you need to borrow, your credit score should be in a higher range and you will likely qualify for better interest rates on personal loans.
Pre-qualify with multiple lenders
You can compare personal loans by prequalifying with multiple lenders. When you are prequalified with a personal loan lender, the lender tells you what type of rates and terms you might qualify for based on your specific situation. It will not impact your credit score.
After you've completed a personal loan application, a lender will review your credit history to determine the likelihood of you paying off the loan. In addition to checking your payment history, they will check your credit usage rate. Credit usage is calculated by dividing your monthly debt by your income.
Let's say your monthly bills are $ 2,100 and your income is $ 6,000. Your credit utilization rate would be 35% ($ 2,100 ÷ $ 6,000 = 0.35). Here's why it matters: The lower your credit usage, the more comfortable lenders are in granting loan approval.
When you prequalify with multiple lenders, you can also compare fees. For example, a lender may offer a lower interest rate, but charge a high set-up fee. Pay attention to the annual percentage rates (APRs) of different loans: The APR on a loan combines the interest rate and fees to give you the true cost of a loan. Getting all the details up front allows you to go for the cheapest personal loan option overall.
Once you've compared the rates this way, you'll know exactly which lender to choose to get the best deal on your loan.
Find a co-signer
If you have a personal loan co-signer, that person's financial information and credit score could help you qualify for a loan or receive better terms than you would on your own. This is because your co-signer will have the same level of responsibility as you on the loan.
It's a great way to get a good interest rate and an attractive loan term, even if your personal loan credit score is low.
Offer collateral (get a secured loan)
A final option is to take out a secured loan against an asset on which you have accumulated equity. Here are some of those options:
A Home Equity Line of Credit (HELOC) where you enter into a line of credit using the equity in your home.
An auto equity loan where you take out a loan using the equity in your car.
A 401 (k) loan where you borrow against your 401 (k).
With a secured loan, you risk whatever you use as collateral. For example, with HELOCs and auto equity loans, you put your home or car at risk in the event of default. Only take out a secured personal loan if you are confident that you can make the monthly payment on time.
401 (k) loans typically require payments to be automatically deducted from your paycheck, but if you don't stick to the repayment plan it could be costly. For example, if you lose your job and cannot repay the loan within five years, the loan could be considered a distribution. At this point, you will likely have to pay taxes as well as a 10% early withdrawal penalty.
What about loans without a credit check?
There are certain types of personal loans that do not require a credit check. Payday loans and auto title loans are two common examples. You could get one no matter what your credit score is. However, these are short term loans that tend to have very high interest rates, with APRs often exceeding 400%.
Loans without a credit check are a bad choice in all but the most desperate situations. And even then, it is better to consider other options, such as a loan from a family member or a loan with a co-signer. Even if you don't have a good credit score, avoid getting a payday loan or other loan without a credit check at all costs.
The bottom line
There is an unsecured personal loan available for just about any credit score and even some that do not require a credit check. The minimum credit score for a personal loan varies depending on the lender, which means you have options. If you absolutely need a loan, you can probably get one.
However, your credit score will determine your loan options and the amount of interest you end up paying. For this reason, it is in your best interest to work on your credit score as much as possible and then seek out the best low interest personal loans.
Every little bit of progress you make towards the highest possible credit score on a personal loan will open up more options for personal loan providers – and potentially help you qualify for lower interest rates. This can make a big difference in the total amount you pay for your loan, especially if you have to borrow a large amount of money.
Still have questions ?
Here are some more questions we answered:
Loans and Credit Ratings
Other topics