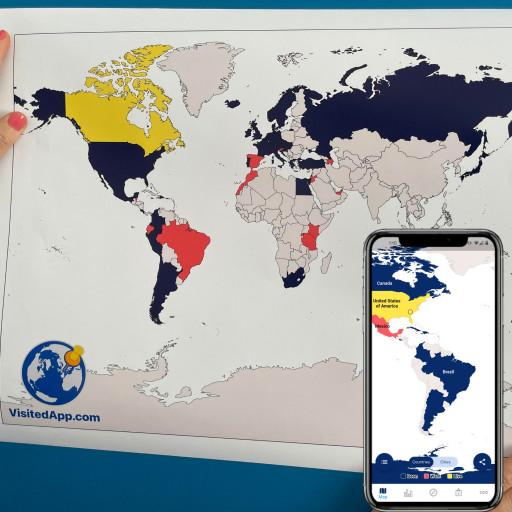 Visited app launches printing service for users' personalized travel map
Visited, the travel app, now offers physical printing of users' digital maps. The new service allows a personalized map to be printed on a 16×20 inch poster, shipped anywhere in the world.
TORONTO – September 13, 2022 – (Newswire.com)
Arriving In High Heels Corporation announces a new feature that will allow users to print their personalized world map, directly from their mobile phone. The Visited app is available for download on iOS and Android. After entering information about where users have been or want to visit, they can simply click the share button to access the physical printed travel map poster, complete with their own selections. Users will be able to choose from a wide range of color combinations or create their own.
The printed physical poster will measure 16×20 inches and will be printed with Micro ink droplets, 8-bit color and on 0.22mm thick satin paper. The personalized travel poster will ship from Toronto to anywhere in the world.
"Due to popular demand from our users, we were finally able to offer a physical map to our mobile users. Our goal is to bring this high-quality travel map to our international traveling users so they can proudly display the trips of all their guests and remember their trip. The process, from downloading the app to submitting their personalized travel card, should take less than 10 minutes," commented Anna Kayfitz, CEO of Arriving In High Heels Corporation.
For more information on personalized printed map services, visit visitorapp.com.
About Visited:
Visited is a travel app that allows users to dream, discover and proudly display their travels. It offers a digital version of a personalized travel application mapped by country and/or city, which users can now have physically printed and sent to the address of their choice. The travel app also displays personalized travel stats, allows users to get inspired by scrolling through travel photos and checking off famous destinations from travel lists.
To learn more about the Visited app and its latest feature update, please visit https://visitedapp.com.
About Arriving In High Heels Corporation
Arriving In High Heels Corporation is a mobile application company. Visited is its most popular application. Other apps include Pay Off Debt and X-Walk.
Contact information
Anna Kayfitz
[email protected]
press release department
by
Newswire.com
Primary source:
Visited app launches printing service for users' personalized travel map