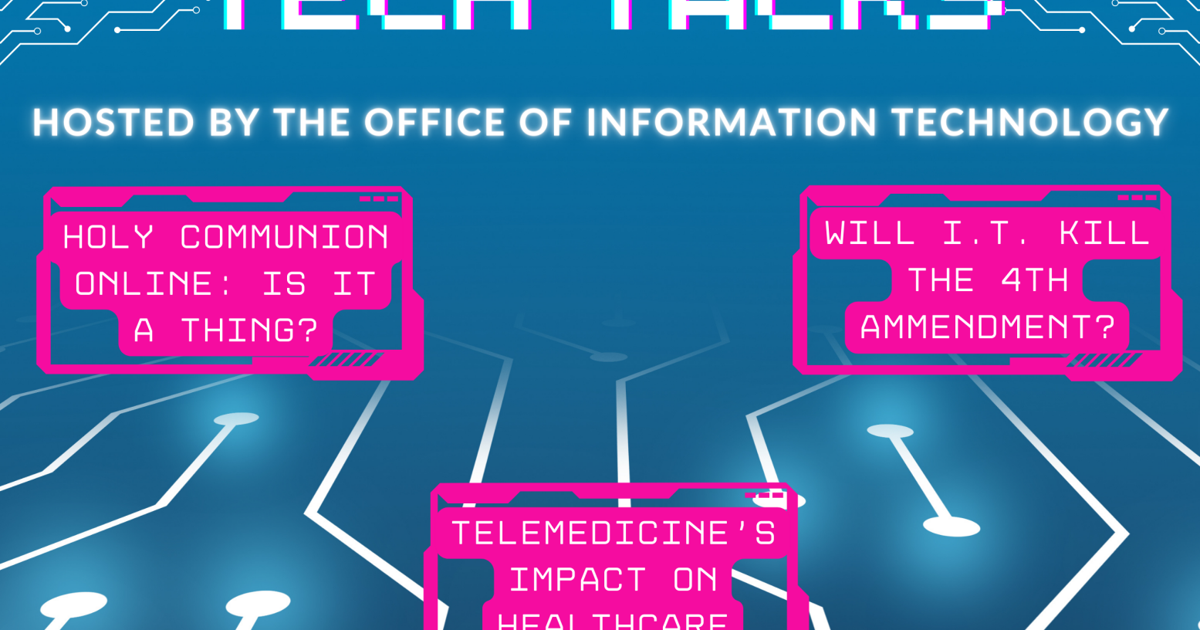 Valpo Tech Talks: how living in the digital age is a double-edged sword | New
Steganography, Holy Communion, presidential documents, telemedicine. All of these seemingly unrelated topics have one common thread: technology.
Throughout October, Valpo's Information Technology Office (IT Department) hosted Tech Talks, featuring speakers from various departments to share how technology is part of their business. 'studies.
Jessica Wilson, Director of IT Support Services, was inspired to create the Tech Talks series after teaching a Core 115 course in the spring of 2022 about the often under-discussed consequences of technology.
"About a year ago, [Valpo] introduced Core 115 with topics, and I came up with one on humanity and technology because I have a background in psych[ology] and share[iology] and I'm intrigued by this idea that we're so caught up in technology but don't see the impact it's having quite drastically on our daily lives," Wilson said.
His students' engaging conversations and insightful research papers have led Wilson to open topics of technology discussion to the Valpo community beyond the basic classroom.
"In [my students'] final articles… someone wrote about 3D printing homes for the homeless and what the impacts would be, and someone wrote about space tourism and what the consequences will be, good and bad," said Wilson said. "I had them debate throughout the semester about whether the technology was good or bad, and it was really interesting to see how their opinions changed."
Wilson used pop culture elements to highlight the vast uses of technology present in students' daily lives.
"[In the class]we watched things from the 'Black Mirror'series at 'The social dilemma'. We explored a lot of different topics and that was really interesting to me, so I brought it back to my full-time job and said, 'I think we should be involved in more of these conversations as service" because IT is more important than breaking/fixing tech support or integrating new software," Wilson said. "So that was definitely something I wanted to encourage other people on campus to start thinking about."
Wilson's original goal was to have five speakers, but after reaching out to faculty and staff, she was overwhelmed with the positive response and unique ideas. Eventually, the five speakers grew to nine, then 10, including his keynote "When Technology Touches Everything…"
"As people started emailing me their ideas, I was like, 'yes to all of these, we all have to do them,'" Wilson said. "I hope this gives students the opportunity to participate in some of these conversations. I think that's what college should be – this opportunity to think more critically and see how things in the world connect, and to start forming opinions about them and what kind of world you want to be responsible for leading.
After three weeks of Tech Talks, Wilson looks forward to future IT events and will be teaching the Core class again in the spring.
"I would love to see the department continue…It's just a matter of reaching out to professors to ask if they would be willing to talk. I did the first one as a kick off and it was just about taking what I was doing in class and talking about some of those moments like 'did you know', 'what do you think '" Wilson said. "[I'm] education [Core 115] again in the spring and [am] excited to explore new topics that I hadn't considered, in part because of Tech Talks like, 'oh, that's a topic I hadn't even considered.'
Pastor Jim kicks off the last week of Tech Talks with "Holy Communion Online: Is It a Thing?" Monday, October 24 in room Christopher Center Library (CCLIR) 205 at 6 p.m., followed by Robert Wichlinski, Lecturer in Computer and Information Science, who will discuss "Will IT Kill the 4th Amendment?" the next day at 8 p.m. in the same room. Dr. Adrienne Moore will conclude the lecture series on Friday, October 28 at 6:00 p.m. also at CCLIR 205 with "The Impact of Telemedicine on Health Care".