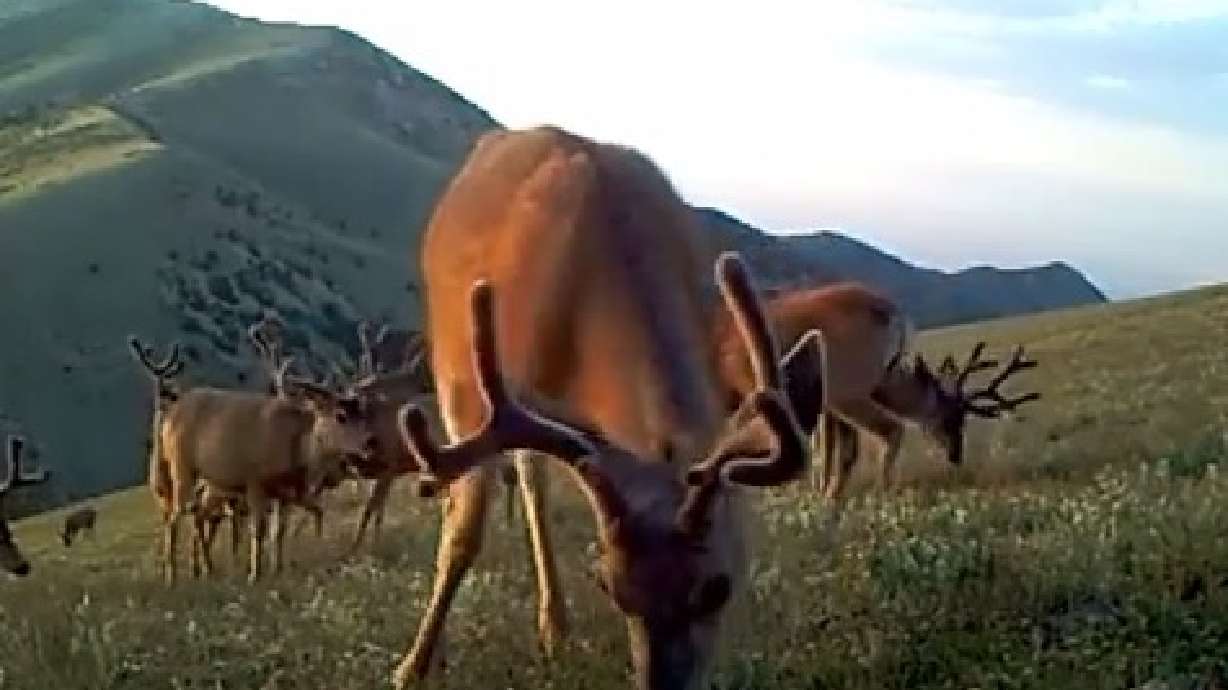 Utah again proposes ban on surveillance cameras during hunting season after pause on idea
[ad_1]
An image of males eating grass on a Utah mountain captured from a surveillance camera in August 2021. The Utah Wildlife Division proposes to ban the use of camera information surveillance during the big game hunting season. (Utah Wildlife Division)
Estimated reading time: 5-6 minutes
SALT LAKE CITY – State wildlife biologists are once again proposing to ban the use of surveillance cameras for hunting a few months after withdrawing the proposal to further investigate hunters after an initial backlash.
The plan, proposed Tuesday by the Utah Wildlife Division, calls for a ban on surveillance cameras or any other non-portable transmission device used for hunting purposes between July 31 and January 31, each year. This includes any device that tracks the heat or movement of an animal, according to Covy Jones, the big game coordinator for the Utah Division of Wildlife Resources.
If approved, the sale or purchase of any information relating to the camera, including images or data, for hunting purposes would also be prohibited. Night vision devices to locate or attempt to locate large game would also be prohibited 48 hours before and 48 hours after any big game hunt.
The Utah Wildlife Board is expected to vote on the proposals early next year. If they vote to approve it, it would go into place before the 2022 hunting season.
The division first proposed the plan in late August, saying about 62% of Utah's more than 2,000 hunters surveyed opposed the idea of ​​using surveillance camera image transmission in real time during the hunting season. Utah Wildlife Board members voted to withdraw the proposal a day after it was announced to allow the division to review the plan with more people.
The results of the new poll, conducted last month, show that most hunters still agree with the proposed changes.
In a presentation video posted on Monday, Wildlife Division Captain Wyatt Bubak said 52% of hunters in the new poll said the state should regulate the use of surveillance cameras while 38% opposed. Another 11% didn't care anyway.
Half of those polled said they agreed that surveillance cameras had an impact on the "fair hunting" of animals, defined as the "ethical, sporting and legal" pursuit of an animal, according to the division. . Just over a third said they didn't think it was a problem.
While half supported the use of internal surveillance camera storage, more than two-thirds said they opposed the practice of transmitting surveillance camera data during big game hunting seasons. Only a fifth of the hunters interviewed supported this practice.
"A strong majority of the population opposes the use of these types of cameras for big game hunting," Bubak said.
Two-thirds of those polled also supported regulations on the practice of selling surveillance camera information, which division officials say has become more popular in recent years.
"One of the things we had the greatest public support for was the (proposal) to ban the buying and selling of surveillance camera data, including images, location information, time and data – any media or location information captured with it, "Jones added. .
Meanwhile, more than half of those polled said they support regulations on how many surveillance cameras can be used. More than two-thirds supported the idea of ​​regulating a limit on the number of cameras a guide or outfitter can also use.
The average of respondents indicated placing a limit of five cameras used for internal storage in private homes and six for guides and outfitters. It was zero for transmitting cameras in both categories.
Those who responded were divided – 44% in favor, 41% against – whether hunters on private land should have fewer regulations on trail cameras than on public land. They were also divided – 47% against, 40% for – on whether regulation should be more stringent on public lands.
Bubak explained that the division had randomly selected 10,000 people who had applied for big game hunts in Utah in the past five years. Most received multiple requests simply because they had changed their contact details.
In total, just over 2,300 hunters responded, which Bubak said "far exceeded" the threshold necessary for a valid investigation. Those who responded represented a population very similar to the demographics of the state's average hunter.
About 41% of respondents said they had used surveillance cameras for hunting in the past five years. Of these hunters, 93% reported using them to spot wildlife for hunting purposes. Most use multiple cameras; in fact, the average was around 4.8 cameras while 11 respondents said they used more than 30 cameras.
The proposed ban only applies to hunting. Private landowners can continue to use devices year-round to track trespassing or monitor farm operations. But the devices still cannot be used to track animals for hunting, even on private land.
Municipalities participating in the Urban Deer program can also continue to use the devices.
Meanwhile, 2,083 hunters responded to an emerging technology survey the division conducted earlier this year. This survey found that over 70% oppose the use of vision technology in hunting.
The division also proposes that bison hunters examine educational information on shot placement before the next buffalo hunt. The Utah Wildlife Council called for the change earlier this year, citing safety concerns.
"Making a clean, lethal shot – on the first try – is better than dealing with an injured bison or trying to find one that has run away with the herd," the division says on its website.
The proposal was proposed in August and was also postponed with the surveillance camera changes.
The division opened for public comments on all of its proposals on Tuesday. comments can be submitted online on the division website by December 27 at 11:59 p.m.
The Utah Wildlife Board will vote on the proposed changes at a meeting scheduled for January 4, 2022.
×
Related stories
More stories that might interest you
[ad_2]