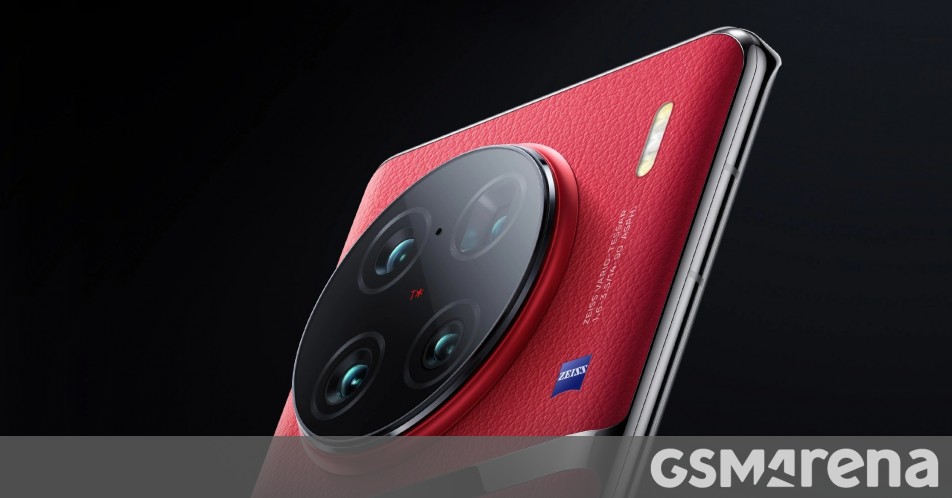 The vivo X90 Pro+ packs a 1″ sensor, two telecameras and a Snapdragon 8 Gen 2
The vivo X90 Pro+ is here and the company is so confident in its creation that it calls its camera the "King of One Inch Sensors". The phone is not the first to release Sony's IMX989 imager, but vivo has equipped it with several enhancements that make it special.
Let's start with the first thing light encounters: the lens. It features a high quality glass element with a Abbot number of 81.6 (a higher number means less light scatter, plastic can have a number as low as 30). Plus, it's coated with Zeiss T* formulation that reduces flare and ghosting. The lens has a fairly wide aperture, f/1.75 (a certain Xiaomi has an f/1.9 lens), which lets in more light.
And the large 1″ IMX989 sensor is here to help – this camera has a 77% larger photosensitive area than the X80 Pro's 1/1.3″ sensor. The individual 1.6 µm sensors can be grouped into groups of four to achieve an effective pixel size of 3.2 µm. Next comes image processing, but we'll come back to that.
The X90 Pro+ is equipped with two telephoto lenses. The more interesting of the two is a 90mm periscope lens with a 64MP sensor. This one has a 3.5x optical zoom and a maximum 100x digital zoom. Additionally, there's a bright 50mm portrait lens (f/1.6, fixed focus) with a 50MP sensor behind (IMX758). All three cameras mentioned so far have OIS.


The vivo X90 Pro+ camera system
The ultra wide angle lens has been optimized for low distortion. It has a 114° field of view and a 48MP (IMX598) sensor. The autofocus rear cameras are assisted by a time-of-flight laser system. Finally, the selfie camera has a 32MP sensor (f / 2.45).
The X90 Pro+ can record 8K video at 30fps. And if you want quality, there's a 14-bit RAW video mode. You can calibrate the camera with the typical gray card and choose between Zeiss Natural Color 2.0 or vivo Vivid Color mode. Both Dolby Vision and LOG formats are supported, and you can capture stills at 10 fps while recording video.


Camera modes: vivo Vivid Color • Zeiss Natural Color 2.0 mode
All this shouldn't give you the impression that the camera is the only special feature of the vivo X90 Pro+. It's powered by the latest and greatest Snapdragon 8 Gen 2, loaded with 12GB of RAM and 256GB or 512GB of the new UFS 4.0 storage. The chipset is connected with a large 8900mm² vapor chamber to maintain stable performance.


A great VC to keep the Snapdragon 8 Gen 2 cool
The company has added its new ISP vivo V2 to handle image processing. The chip is more efficient, delivering 16 TOPS per watt and comes equipped with 45MB of on-chip SRAM. It combines traditional ISP and AI approaches and handles noise reduction, HDR, MEMC, and more.
The vivo X90 Pro+ has a large 6.78-inch screen with a resolution of 1440 x 3200 pixels (20:9). It is an LTPO 4 AMOLED panel (Samsung E6) with 10-bit color and a refresh rate of up to 120 Hz. For dimming, the display uses a high-frequency PWM system of 1440 Hz. peaks at 1,800 nits. The dual-curvature screen is factory calibrated and supports Dolby Vision.
The body of the phone is available in two colors – China Red and Original Black, both with leatherette texture. It's rated IP68 for dust and water resistance, so it's not afraid of the elements. It's a bit chunky, measuring 9.7mm thick and weighing 221g (that's still lighter than the Xiaomi and iPhone 14 Pro Max).


vivo X90 Pro+ in China Red and Original Black
Inside is a 4,700 mAh (18.23 Wh) battery which is split into two cells for fast charging. vivo didn't go wild with this one, the Pro+ supports 80W wired charging and 50W wireless charging. Going the wired route, a full charge can be achieved in 33 minutes.
A few other things to mention. The phone has stereo speakers, but it also offers a wireless option – when paired with the new vivo TWS 3 Pro, it promises lossless, low-latency sound. Bluetooth version 5.3 is supported with aptX HD and LDAC. For wired connectivity, USB-C support is designed for USB 3.2 Gen1 speeds and supports video output.
The vivo X90 Pro+ launches in China with OriginOS 3. While its siblings went up for pre-order immediately, Pro+ pre-sales will begin on November 28, and all three models will be available from December 6. In China at least, vivo did not reveal any global launch plans.
So if you're in China in the coming weeks you'll be able to pick up a Pro+ for CNY6,500 ($910/€890/₹74,500) for the 12/256GB model, the 12/512GB is slightly more expensive at CNY7,000.