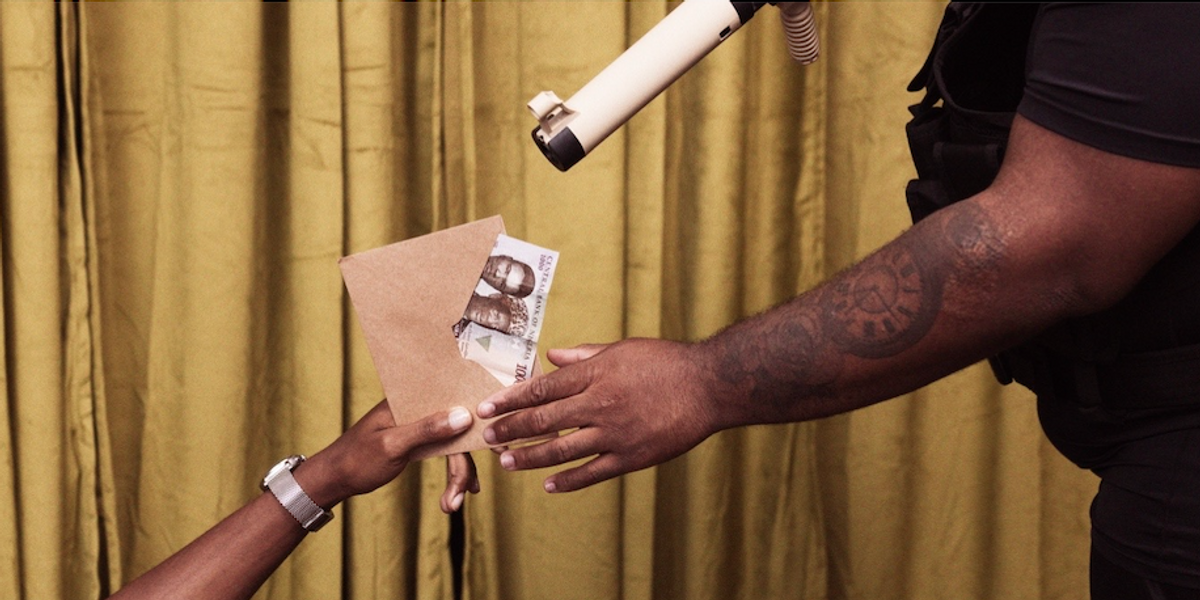 Spotlight: Obi Obioma shows us that children are not well
In our "Spotlight" series, we highlight the work of photographers, visual artists, multimedia artists and others who produce original and dynamic works.
In our latest piece, we spotlight the Nigerian photographer and art director Obinna Obioma. The artist has used his degrees in international relations, diplomacy and law to translate the grim realities of Nigerian youth through art. Much of Obioma's work focuses on the communities he grew up with, and he uses his platform to highlight those stories. His own family inspired him to pursue photography and his designs have continued to reflect his Nigerian heritage and pride. As the artist says, his various projects, "Play on the narrative that culture goes beyond physical clothing." Obioma's latest project, "Naija," tells a familiar story of corruption, insecurity and police brutality among young people in South Africa. West Nigerian youth mostly try to escape the harsh conditions imposed on them by their rulers, most leaving their lives totally behind.
We spoke with Obioma about celebrating our identities and heritage, and how creative honesty can empower a generation.
Responses have been edited for length and clarity.
Describe your journey as an artist and how far you have come to get to where he is today.
Although I am an alumnus of the International Center of Photography (ICP, NYC) where I studied photography and art direction, I initially come from a less creative background.
My undergraduate and masters degrees are in international relations, diplomacy and international law, respectfully. I was exposed to photography by my photo enthusiast father growing up. He photographed our family for birthdays and other social events – my love for photography was planted here, and many years later my mother gave me a camera after my first degree. I signed up for YouTube college, then got mentored by a photographer Henry Nwaeze where I was able to work in his studio as a photo intern, then a photographer. I then joined ICP to learn photography theory and art direction.
What are the central themes of your work and how did you tell the story this time around?
My work is primarily centered on addressing and celebrating African individuality, identity and heritage. I often use my African background and Nigerian heritage to inform and influence my style, concepts and designs. I believe that as an artist, my work should be an expression of who I am, the subjective elements that have shaped me, and the issues that are close to my heart and that I would like to address through my work.
In "Naija"I collaborated with a fellow Nigerian artist and cinematographer Davidson Ogujiuba to create a photo and video project that addresses the major social, economic and political issues that have continually plagued Nigeria.
Looking through the eyes of young Nigerians, the work highlights some key issues; insecurity, fuel shortages, teachers' strike actions and the massive exodus of qualified young people to the West. In a more subtle approach, the work also highlights other issues such as bribery and corruption, police brutality, lack of stable electricity and unfavorable exchange rate.
Can you talk about your use of props in this project?
When conceptualizing and creating the art direction for the photos, it was important to use elements that translated visually but didn't seem to feed the viewer too much. It was important to us to select props and props that complemented the theme of the artwork and were also elements that tied together and could trigger a level of nostalgia.
For example, to show the shortage of fuel, we decided to use plastic gallons, also called "jerrycans", which are often used to queue for petrol at gas stations when there is a shortage. To show the exchange rate imbalance, a scale was used to visually show how $1 is almost as valuable as ₦1,000. Finally, the styling of the armed man was done in a very ambiguous way in order to be able to make the link with insecurity, police brutality, but also kidnappers and bandits.
Video production and post-production – sound design and SFX – edited by Davidson follow the same plan. We wanted the video to be short, direct but still memorable. Each song has been carefully selected and verified to match each clip.
How has the pandemic affected you creatively?
I think like most creatives, the peak of the pandemic in 2020 has affected the way we operate and create. As a visual artist and photographer, it was quite frustrating not being able to go out and take pictures or even set up photo projects. On a more financial note, there has been a drop in the number of customers booking shoots etc. which has affected livelihoods. Anyway, art is one of those things that often adapts to change and alters landscapes. I can say now that I have become a better artist because I have been able to tap into other genres of visual art, like screen art, and continue to create work.
In my work 'Through the screen', I created it through FaceTime and my camera to connect and capture. I took the liberty of using photography to tell the story of those who live in these cities, forced to socially distance themselves. In 'Ihe Na Adigi Omimi' – which stands for 'Skin Deep' – I created 3D renderings of a black woman and layered her skin with the popular West African fabric known as Ankara. Playing on the narrative that culture goes beyond physical clothing. In most cases, they highlight African culture and traditions during events such as birth, death and marriage; consequently, becoming a means of identity.
​CREDITS
PHOTOGRAPHY, ART DIRECTION AND SCENOGRAPHY – OBINNA OBIOMA @MROBINNAOBIOMA @MR.OO_
DIRECTOR OF VIDEO, POSTEDITS, SPECIAL EFFECTS AND SOUND DESIGN – DAVIDSON OGUJIUBA @AFILMBYVINCI
DP -Lillian Djuane @llc_jones
MAKEUP – Morgan Everson – @morganeverson_
SUIT AND WARDROBE STYLE – Wuraola Oladapo – @wuraolaoladapo
HAIR – Abiodun Adegawa – @finessedbyabbey
MODELS Hannica Ewart – @shannewartShanae – @shanaestrachanElijah Calloway – @eli.lo.meinSebastian Duncan @bashlowkeyRomel Gaddy @roevisionsGabrielle O'Connor – @__blue.roses
DIGITAL TECHNOLOGY
Shawn Caldeira @shawncworkshopPHOTO ASSISTANTSSebastian Duncan @bashlowkeyRomel Gaddy @roevisions