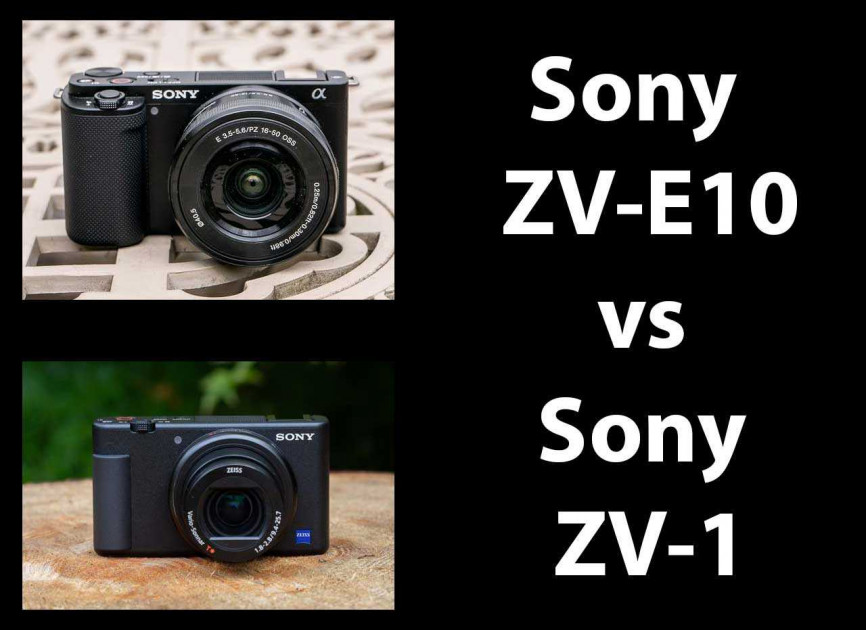 Sony ZV-E10 vs Sony ZV-1 – Direct Comparison
[ad_1]
The ZV-1 has proven to be a successful compact camera for Sony since its launch in 2020, offering a host of features designed specifically for vlogging and content creation. Now, the mirrorless model ZV-E10 follows in the footsteps of its little brother in 2021.
How is the new ZV-E10 different from the ZV-1, and which of these cameras is right for you?
We offer you this detailed Sony ZV-E10 vs Sony ZV-1 comparison to help you choose between them.
Sensor
The ZV-E10 has 24.2 megapixels and the ZV-1 has 20.1 megapixels, so the former offers a slightly higher resolution than the latter.
More importantly, the ZV-E10 has the same APS-C sized sensor as all the other models in the A6xxx series, while the ZV-1 has a physically smaller 1 inch sensor.
This means that the ZVE10 is a better performing camera in low light situations due to its larger pixel size, and it offers greater dynamic range than the ZV1.
It's also easier to create images with shallower depth of field and smoother backgrounds with the ZV-E10, although this depends a lot on the maximum aperture of the lens it's paired with.
The ZV-1's stacked Exmor RS sensor does give it some advantages over the ZV-E10, however, mainly in terms of burst shooting and slow-motion video capabilities (more on those below).
ISO speed
The native sensitivity range of the Sony ZV-E10 is ISO 100 to ISO 32,000, which can be expanded to ISO 100 to ISO 102,400.
The ISO range of the Sony ZV-1 is ISO 100 to ISO 12,800, which can be extended one step up to 25,600 using the special multiple noise reduction mode.
Processor
Both cameras use the exact same powerful Bionz X image processor, giving the ZV-E10 a claimed focus speed of just 0.02 seconds and allowing the ZV-1 to shoot 24 frames per second using the electronic shutter!
Autofocus
The Alpha ZV-E10 has a hybrid autofocus system with 425 phase detection AF points and 425 contrast detection AF points that cover 84% of the entire image frame.
The ZV1 also has a hybrid AF sensor but it has fewer phase detection points – 315 in total – and the same 425 contrast detection AF points.
Both cameras offer Sony's excellent real-time tracking system, including Eye AF for humans / animals for stills and humans for video, as well as Auto Exposure (AE) Face Priority. , which detects and prioritizes the subject's face and adjusts exposure to ensure the face is shown with ideal brightness.
Video
On the Sony ZV-E10 and ZV-1, video can be recorded in 4K resolution up to 30 fps, while Full HD can be shot up to 100/120 fps depending on whether you're shooting in PAL or NTSC format .
Both models feature Sony's S-Log2 and S-Log3 gamma and HLG curves that allow them to record a greater dynamic range. Sony's range of image profiles are also present and decent, meaning you can match images shot with the ZV-E10 or ZV-1 with high-end cameras like the A7 III.
The ZV1's stacked sensor further gives it the ability to offer special HFR modes where you can shoot short video clips at 250, 500, or 1000 fps, with frames then recorded at 25 fps for slow motion playback – this is n is not possible on the ZV-E10.
Vlogging features
Both cameras offer the special features compatible with Sony vloggers – Background Defocus, Product Showcase and a Tally Light.
Both have a defocus button in the background. For vloggers, the purpose of this button is to toggle between a blurry or a light background. In photographic terms, it switches the aperture between the largest available for the attached lens and a fixed value.
Product Showcase mode is an autofocus mode that alerts the camera to shift focus from a person's face to an object that can be held in front of the camera. It's a popular technique on YouTube for showing an element to the viewer, but on cameras with slower autofocus, it can leave the focus on the presenter's face with the product blurry, and vice versa. Product Showcase mode solves this problem, adding another plus point for vlogging with these cameras.
A tally light is also provided on the front of the camera housing for immediate indication of the current status of video recording, and a red colored recording alert square is also provided. displayed on the LCD screen (both can be turned off).
Live broadcast
Live streaming is possible directly from the two cameras by simply connecting it to a computer or compatible mobile device via USB, eliminating the need for a video capture card. This allows the video and audio capabilities of the camera to be used for live social media and video conferencing. UVC and UAC standards are supported for better picture and sound quality during broadcast.
ND filter
This is one of the main differences between the ZV-E10 and the ZV-1 – the former does not have a built-in ND filter, while the latter does.
Why is this important? On the ZV-1, this 2-speed ND filter helps you shoot at larger apertures in sunny weather, which is extremely useful when shooting videos and trying to stick to the shutter speed that is the double the frame rate rule. On the ZV-E10, you will have to use real glass filters mounted on the lens to achieve the same results.
audio
A 3-capsule directional microphone for 3-channel sound is found on the ZVE10 and ZV1. It also sports a wind reduction design with a removable Dead Cat windshield that comes in the box. Clear voice isolation is ideal for recording your voice and not the background, and there is also a dedicated multi-interface hot shoe for an external microphone and other additional accessories.
Both cameras also offer a very large 3.5mm microphone input, but only the ZV-E10 has a headphone output.
Burst shooting
The ZV-E10 offers 11 fps continuous AF / AE tracking with the mechanical shutter and 8 fps with the silent electronic shutter.
Thanks to its stacked sensor, the Sony ZV-1 has a much faster maximum burst speed of 24 frames per second with continuous AF / AE tracking.
Lens
The ZV-1 is a compact camera with a non-removable zoom lens, the same 24-70mm F1.8-2.8 lens of the RX100 IV camera, which retracts into the camera when not not used.
The ZV-E10 is a mirrorless camera that uses removable and interchangeable lenses. It is usually offered as a kit with the small, lightweight E PZ 16-50mm F3.5-5.6 OSS lens, which is a good place to start if you don't already have an E-mount lens.
The ZVE10 even has a built-in zoom lever that surrounds the shutter button. While this only works with Sony Power Zoom lenses, it's still a pretty handy feature to have on such a video-centric camera, providing an alternative to using the zoom ring on the lens. himself.
So the ZV1 offers a fairly versatile 24-70mm zoom range in a small, lightweight body that fits in your pocket, while the ZV-E10 offers much more versatility by accepting a huge range of different E-mount lenses. but is therefore bigger, heavier and potentially (much) more expensive.
Weather resistance
Neither the ZVE10 nor the ZV1 offer a certified level of weatherproofing.
IBIS
When it comes to stabilization, there's Optical Steadyshot built into the ZV-1's lens. This will give you a few extra stops to play when shooting stills, and it will smooth out even the slightest movements when shooting video.
On the ZV-E10, there is no built-in stabilization. Instead, you'll need to use a lens with its own built-in stabilization system, such as the E PZ 16-50mm F3.5-5.6 OSS which is available in a bundle with the camera body.
Both cameras offer the option of activating Active SteadyShot in video, which is a digital form of stabilization. This crops the image slightly to allow the camera to digitally move the image frame to compensate for larger movements.
It works great, creating very stable sequences when picking up and removing all but the heaviest steps when walking. The catch is that due to the slight cropping, if you sail, your face will appear larger in the frame.
We suggest using it only when walking or zooming in to show something, and when presenting on camera, stick to Standard Steadyshot mode.
Finally, camera shake metadata is recorded by the built-in gyro sensor inside both cameras, which helps smooth and stabilize hand-held footage in post-production using the application of Sony's Catalyst Browse / Catalyst Prepare desktop.
Viewfinder
Neither camera has a viewfinder, so if you don't like using an LCD screen for composition, you'll have to look elsewhere.
LCD screen
Both cameras have a 3-inch 921,000-dot LCD screen that hinges on the side of the camera and offers 180-degree rotation.
This means that it can be flipped onto its side and rotated forward 180 degrees for vlogging or selfies (or selfies as they're now called), as well as being able to fold the screen back into the body of the camera to provide protection when you just want to carry the camera loose in a bag or pocket.
Memory cards
The ZV-1 and ZV-E10 both have a single memory card slot that supports UHS-I type SD cards.
Battery life
The Sony ZV-1 uses the NP-BX1 battery, with an estimated battery life of 45 to 75 minutes of video or 260 still images.
The ZV-E10 uses the larger NP-FW50 battery which is designed for approximately 80-125 minutes of video or 440 photos.
Price
In the UK the Sony ZV-1 is priced at £ 700 and in the US it costs $ 800.
The Sony ZV-E10 is priced at £ 680 / $ 700 just for the body. It is also offered as a kit with the E PZ 16-50mm F3.5-5.6 OSS lens, priced at £ 770 / $ 800.
Conclusion
The Sony ZV-E10 and ZV-1 are both great vlogging options at about the same price, but obviously differ in their approach – the former is larger but has a larger sensor and interchangeable lens system. potentially more versatile, while the latter is more compact but has a smaller sensor and a less versatile fixed lens.
So what do you think? Would you choose the Sony ZV-E10 or the Sony ZV-1, and why? Leave a comment below!
Your comments
[ad_2]