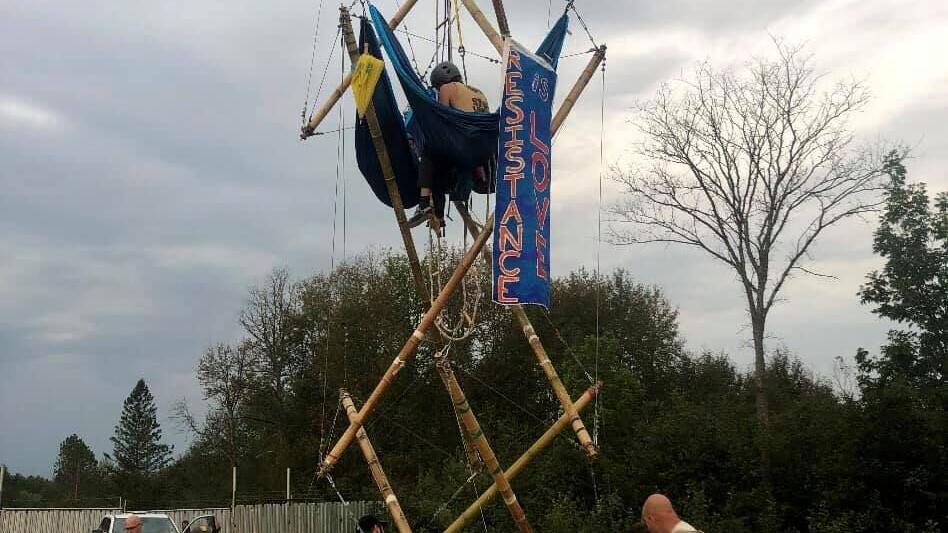 Six arrested in Aitkin County | To free
[ad_1]
On Thursday, August 26 at around 5:45 a.m., the Aitkin County Sheriff's Office was notified of a group of protesters at the Swatara pumping station. Preliminary information received indicates that there was a suspected person in a tripod with multiple people locked to the device.
Upon arrival, law enforcement officials were told the protesters had been told to leave and refused to do so. They were told they were entering private property and they still refused to leave.
Additional law enforcement units were summoned along with a bucket truck and extrication teams.
The tripod structure had three levels. At the base, four people were secured to the structure. At the intermediate level, two additional people were attached to a device that was part of the structure. Doctors were on site to take care of the well-being of the demonstrators and the police.
The four people at the base were told they were under arrest. They refused to free themselves from the locking mechanisms that secured them to the structure and to each other. They were freed from the structure by the use of cutting tools. Those arrested shouted that they were injured. This would trigger people in the street who would then cry out against the police. No force was used against these individuals.
Sheriff Guida had ordered a bucket truck to come to the scene to help safely remove people high on the structure. Once law enforcement approached the last two people in the structure, about 20 feet high, they refused the offer to descend on their own. The two actively refused to follow orders while being rescued from this height.
Law enforcement professionals were able to get the two unsecured and placed in the bucket truck and lowered to a safe location. They were arrested.
A total of six people were arrested and then incarcerated in the Aitkin County Adult Detention Center and detained with probable cause. Two of the six were men and the other four were women. None of the six people arrested live in Minnesota or Wisconsin.
No force was used to apprehend those arrested.
[ad_2]