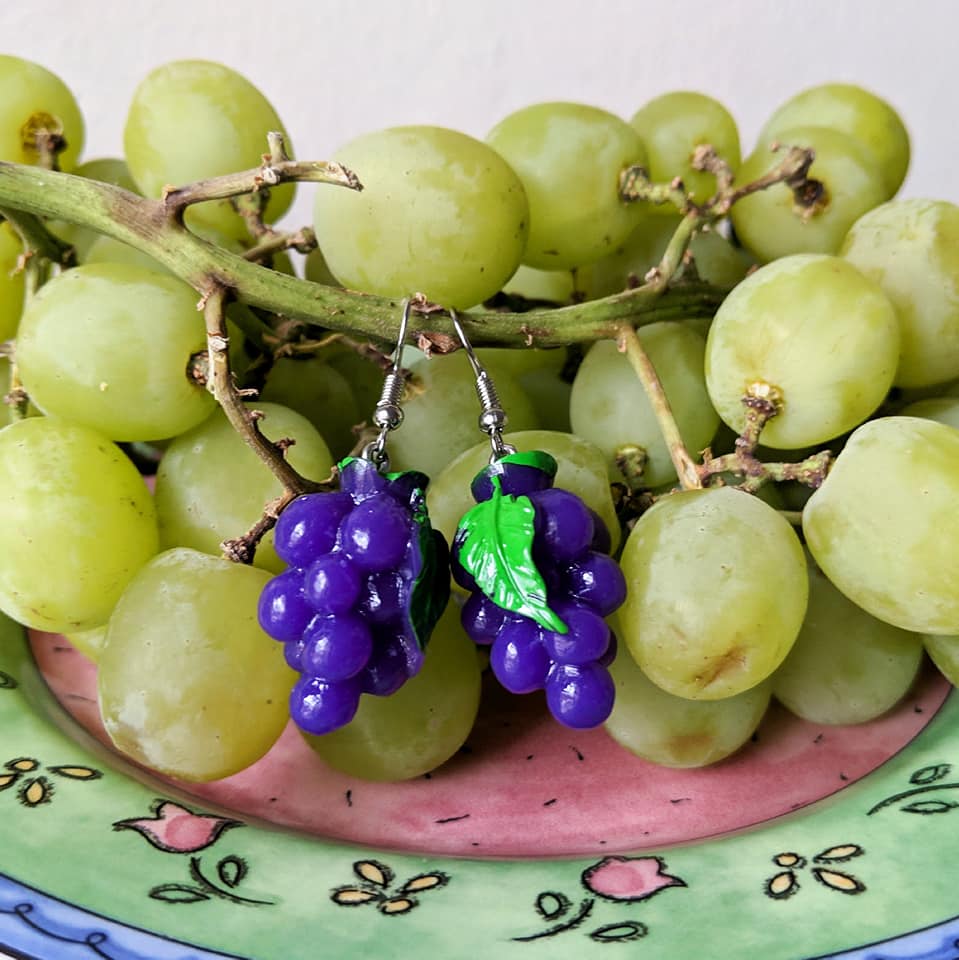 Rhody Maker: Olena Kagui from Oddity Cart
[ad_1]
Rhode Island Monthly: What made you want to make jewelry and accessories?
Olena Kagui: I became obsessed with earrings at a young age and started collecting them in college. I'm one of those people who liked everything to match, so I started collecting earrings to match different occasions. It was not easy to find, for example, sushi earrings to wear on a sushi date. So I bought some miniature sushi pieces for dollhouses and turned them into earrings! I got so many compliments and requests wearing them so I started doing them for other people too. Having an earring store helps me channel my love for earrings, although having over 50,000 earrings at home at a time can be a little crazy!
RIM: How and why did you start your own business?
OKAY: I have always liked to tinker. In addition to making felt items, I made dream catchers, jewelry, Cricut crafts, and all kinds of weird carvings from upcycled items and discarded items found on the side of the road. . Everyone always told me to start a store, but I didn't think I had that particular motivation it takes to run a business. So after several successful craft fairs, I bit the bullet and opened an Etsy store and now an independent store through Shopify. The first year I sold maybe ten pairs. The second year, I sold 1,000 of them. Last year, I sold almost 10,000 pairs of earrings, and it just keeps growing! This year, I even created a National Day and registered it with the National Day Archives. It's called National Dumb Earrings Day and is celebrated on April 13th.
RIM: What are the sources of inspiration for you? How do you find your ideas?
OKAY: I draw my inspiration from the most unlikely places. When the pandemic started I knew I had to have mask earrings. Once in the car, I saw a beautiful traffic cone and thought, "Oh no, I don't have any traffic-themed earrings! As a frequent traveler, I discover a large part of the world, and the more I explore, the more ideas I have. Plus, I like to follow local trends, so when The Queen's Gambitcame out, bought a bunch of chess pieces and turned them into earrings! Now that there are several popular Van Gogh exhibitions, I am selling various famous painting earrings. Whenever a client asks me about something I don't have, I start to think of ways to make it happen, even if that means making a mess of resin again in my craft room.
RIM: What is the manufacturing process for your products?
OKAY: As I'm more of a processor than a craftsman, most of my process involves drilling, attaching fish-eye hooks, and testing the strength of the earrings. My husband Isaac helps me with the drilling. I like to say that I am the brain and that it is the muscle. We are an earring making team together! One of my favorite parts of creating a new earring is taking photos to show them off. I have a huge collection of miniature furniture and colorful papers to design beautiful layouts. I love to photograph my food-themed earrings in the miniature kitchen, but I will also venture outside and take pictures "in the wild". For example, I found a creepy spider web in the woods for an authentic spider earring photoshoot. I also went for some food to get the perfect pic for my mushroom lists!
RIM: Do you have personal favorites of your products?
OKAY: My favorite earrings change often, that's how it all started! Right now I like to explore vineyards and breweries in my spare time, so I like to wear my wine or beer bottle earrings. There is also a special place in my heart for my rubber duck earrings. I even wore them in the bath once or twice. One of my faults is that I guess everyone has the same thought process and interests. Of course, I've found that isn't always the case, but selling earrings has put me in touch with thousands of like-minded people. It also inspired me to start an earring subscription through Cratejoy called Monthly Earring Mania. There are currently 35 subscribers, and it keeps increasing every month!
RIM: You say you are taking your store on a trip. What do we have in store for that?
OKAY: My husband and I are going on an 11 day road trip to Seattle, where we will board a plane and fly to our new home in Hawaii. We have a nine year old dog, Smiley, who will be safer and happier on a direct short flight. We hope to sponsor the entire trip with our store, so we pack almost 1000 pounds of pendants, hundreds of envelopes, and our label printer into our car. Since our car is electric, we will have to stop frequently to recharge, and we hope to spend that time filling orders. To make things more exciting for our customers, we hope to tell them about the road trip and send them stamps or other keepsakes of the state we were in at the time. We've also added several road trip and 50 states themed earrings to our collection! It will be a little crazy to run the store from a car, but we are up to the challenge!
RIM: What part of Rhode Island are you from?
Okay: I am therefore a Czech of Ukrainian origin and I have only been in Rhode Island for two years. I moved here because my husband, Isaac, is a native. He's not just my husband; he is also my business partner and is very involved in our store, doing most of the manual work. In addition, since he has photographic memory, he is responsible for organizing and finding all the pendants ordered.
Isaac was born in Providence and has lived statewide. However, he considers Block Island his first home. We still visit him often as his father and younger sister live on the island. His late grandmother also lived there, in the beloved Yellow House on Lakeside Drive. We loved living in Warwick, right next to Oakland Beach. However, in a crazy turn of events, we have decided to move to Maui, Hawaii for the foreseeable future. We're excited to move in with what we jokingly call our 'earring empire'.
RIM: What awaits you?
OKAY: I am constantly thinking about new ways to develop the business. Last year I started the monthly subscription, recorded a national holiday for the earrings, had two announcements for the store, and created what I believe is the world's first Advent calendar for earrings. On top of that, I have sold over 11,000 pairs of earrings and got almost 4,000 five star reviews, which motivates me to do even more! I want to add more accessories, like bags, sunglasses and maybe even dresses, to the store; I want people to buy complete matching outfits in one place. On the other hand, I want to do even more with just the earrings. I hope to have 1,000 unique ads by the end of the year and plan to sell them through a vending machine. I also buy a 3D printer so that I can create new designs and unique items. I also hope to partner with some physical stores to sell my "IRL" earrings as well as online. My friend Rosa is known to fill my brain with fantastic ideas, and the only thing stopping me from doing them all is time.
For more information on Olena Kagui's work, visit her website odditycart.com, or visit her Etsy. Here's a behind-the-scenes look at the earring making process.
[ad_2]