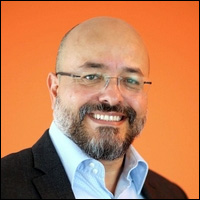 On the retirement of Mark Roberti
The founder and editor of RFID Journal has spent 20 years as one of the most influential leaders in the RFID and Internet of Things industries.
Jul 17, 2022Ed. To note: This article was previously published on IoP Journal.
If the terms "radio frequency identification" (RFID) and "Internet of things" (IoT) are now well-known concepts in the business world, it is largely due to a man named Mark Roberti, the journalist who founded and edited—until this month, and for more than 20 years—what has become the industry's largest content and event provider: RFID Journal. After his long and successful trajectory, Mark has retired and leaves behind a valuable legacy of knowledge, success stories, learnings and relationships, which have helped create and nurture a mature RFID ecosystem. Mark told me about his departure from RFID Journal in an interview with IoP Journal. Click here to watch.
I met Mark Roberti in 2011 when he came to Brazil looking for an editor for what would become the RFID Journal Brasil website and RFID Journal LIVE! Event in Brazil, which lasted until 2019 and 2016 respectively. In 2019, RFID Journal Brasil became IoP Journal—The Internet of Packaging, to address successful business cases with other technologies in addition to RFID, such as QR codes and digital printing.
Mark and I came together at an event to launch a special print edition of the RFID Journal for Brazilian audiences, which quickly proved unfeasible due to costs and the trend of migrating journalistic content to the world. on line. Additionally, the main RFID Journal website became 100% digital the following year.
In our first conversations, we had great empathy, with similar visions on how to practice journalism and with great expectations about the importance and evolution of RFID. So Mark hired me and in November 2011 we launched the RFID Journal Brasil website. The following year, we launched the conference and exhibition for the Brazilian and Latin American markets. The website and the events were very important in bringing the Brazilian ecosystem together, and Mark entrusted me with the roles of editor, emcee, panel mediator and speaker.
In the United States, when I debuted at RFID Journal LIVE! Conference 2012 in Orlando, I was surprised by the general behavior of the public towards Mark Roberti. Many people, especially students, wanted to take pictures with him, treating him like a pop star. Little by little, I understood the importance of the RFID Journal and its ability to attract the public of companies and researchers towards what would transform the Internet of Humans into the Internet of Things.
Over the years, I have cultivated with Mark a relationship of extreme professionalism, admiration and, also, a deep friendship. When I heard about his departure from RFID Journal, I was quite upset and sad. After all, we never like to see the phases of our life come to an end, which is inevitable. And I especially don't like being away from my friends, even if it's for retirement.
So, I take advantage of this editorial, dedicated to the retirement of my friend Mark, to thank this great professional for the years when I was able to help him in this enterprise of spreading RFID and IoT technologies to improve the way companies all sectors do business. It was thanks to the RFID Journal and the support of my friend Mark Roberti and his whole team, in particular Debbie Hughes, that I became an international speaker on RFID and the IoT, which put me on the stage world as a benchmark on these technologies in Brazil and the world abroad.
During these years of working with Mark, I have not only been able to learn about the technologies and their uses in different companies and industries, but above all to meet professionals who work in the RFID and IoT markets, including smart packaging, all over the world. the world. I am very grateful to my good friend Mark and wish him the maximum peace of mind and benefits that recognition of the excellent work he has done in his professional career can bring. "We are together, my friend! You can always count on me!"
Mark Roberti said via email: "It has been an honor and a privilege to serve the RFID industry for the past 20 years. I am fortunate to have had the opportunity to support companies around the world that are looking to successfully deploy RFID and work with solution providers creating amazing RFID products.The industry is set to grow dramatically over the next five years, and I can't wait to see that happen.
Edson Perin is the editor of IoP Journal Brazil and the founder of Netpress Editora.