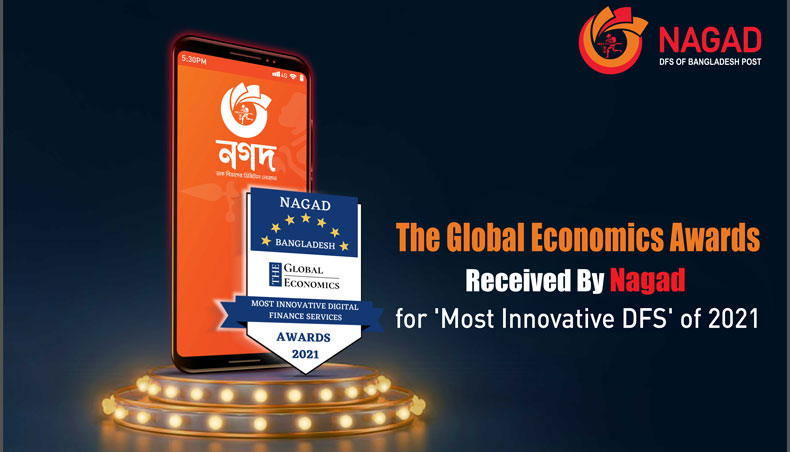 Nagad Wins Global Economics Best Innovative DFS Award
Nagad, the mobile finance arm of Bangladesh Post, received the 'Most Innovative Digital Finance Service' award of 2021 from UK-based Global Economics Ltd, a press release said on Sunday.
The biannual financial publication and business magazine, well known for its in-depth analysis of financial sectors across various industries around the world, announced the award last week.
The agenda of the Global Economics Awards is to recognize digital transformations linked to technological innovation.
Launched in March 2019, Nagad is already recognized for its innovative service around the world. Nagad's innovation – the Know Your Customer electronic tool – was the first of its kind in Bangladesh. By stepping on it, the MFS operator is making a solid contribution to financial inclusion in the country.
Nagad, in partnership with mobile phone operators, has set up an account opening system that takes only a few seconds, which is the first of its kind in the world. Anyone can open a Nagad account in seconds by dialing * 167 # from their mobile phone and configuring the four-digit personal identification number.
Another important step for Nagad is to ensure transparency and efficiency in the disbursement of financial assistance and government allocations. In 2021, Nagad successfully disbursed 75% of social safety net funds, maintaining the highest level of transparency and efficiency.
Commenting on The Global Economics Limited's award announcement, Tanvir A Mishuk, Co-Founder and Managing Director of Nagad, said, "Nagad has been working from the very beginning for the digitalization of the country's financial sector. The trip was not smooth. However, all recognition makes the difficult journey easier and paves the way for advancement. Innovation is the key to the success of any digital business. '
"At Nagad, we always strive to provide the best possible solutions for our customers. We believe that our customers deserve nothing less than the best and we always take that responsibility, "he added.
In October 2020, Inclusive Fintech 50, a group of global organizations, selected Nagad as the best fintech start-up for 2020.
In the same year, Nagad won the World Information Technology and Services Alliance Global ICT Excellence Award 2020 as the first Bangladeshi MFS for its role in promoting financial inclusion. At the Digital Bangladesh Fair 2020, Nagad was awarded by the government for his contribution to the construction of Digital Bangladesh.
Currently, the MFS carrier has 5.20 crore of customers and the daily transaction volume averages Tk 650 crore. Recently, Nagad has received a great response from the market for his work under the slogan – Deshi Nagad-e Beshi Lava, where he mainly focuses on the overall profit of clients using Nagad.