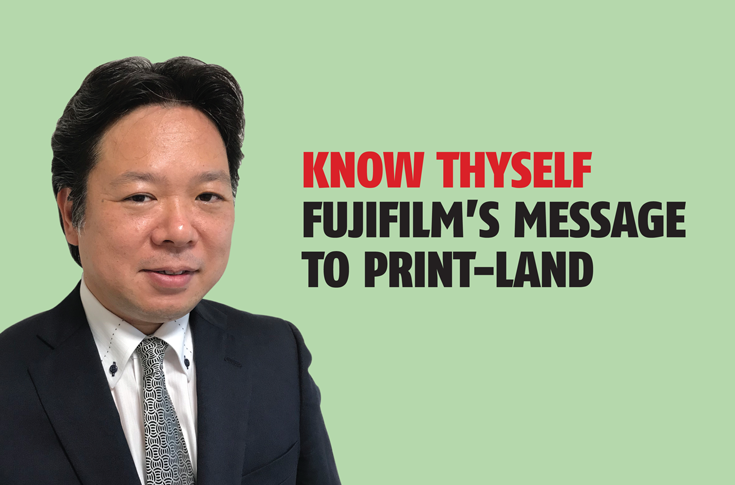 Know Yourself: Fujifilm's Message in Print
[ad_1]
PrintWeek: How do you plan to offset the decline in commercial printer sales last year – which continues into the first quarter of the current fiscal year?
Kentaro Imafuku: Basically two ways. One by maximizing sales of existing products in the packaging printer segment where the volume of work is stable even under the time of Covid.
PW:… and two?
KI: By launching new digital printing solutions primarily for the commercial printer segment where the need for small print runs is increasing due to declining work volume due to the Covid-19 crisis.
PW: The Covid situation looks grim. Did print-land paint itself in a corner?
KI: I do not think so. Printing as an industry is similar to many other traditional industries.
PW: How do you see the constant devaluation of print?
KI: There will always be key players who will spearhead innovation, add value and create a roadmap for the future. Over the years, their value has only increased. That said, for the industry as a whole, the decline in print volumes was offset by a need for increased value. Each of us in the value chain has to find a great place.
PW: We were studying the track record of the big guys like P&G and Unilever. One big trend we've noticed is that marketing is being demoted to an ancillary function rather than a strategic one. Under such circumstances, should the graphic arts industry change its strategy?
KI: The pressure on "marketing" as a function has more to do with rapid technological advancements with tools like artificial intelligence (AI) and machine learning (ML). I think that while the marketing function is still as strategic as it was before, the way it is done has changed with this set of advanced tools.
The graphic arts industry must modify its strategy in response to this change by integrating intelligence of systems and processes. This area requires technology adoption, integration, cross-coordination of hardware and software from multiple vendors, and finally seamless implementation.
PW: Today, a Fujifilm customer needs a partner who can think strategically and see the big picture. As a printing partner, do you understand the challenges your customer is facing?
KI: Understanding a customer's need and providing feedback to our product planning is the primary reason for our existence as a reputable manufacturer. Our history is replete with continuous innovations in printing technology to meet the needs of our customers in the graphic arts industry.
PW: In this age of Covid, have you been able to help identify strategies for new or faster growth?
KI: Today, the industry is under the impact of Covid. The main challenges are: the volume of work has decreased or fluctuated, it becomes more difficult to keep plant operators and cash flow management by reducing inventory. A key strategy to overcome these challenges is to automate the printing process.
We provide process automation to customers with our products such as workflow software, processless offset plates, inkjet systems or the Xerography digital printing press. And to top it off, a combination of that story that has the ability to deliver some process intelligence that I mentioned above.
Market intelligence with Fujifilm
Historically, Fujifilm has engaged in the graphic arts industry which primarily includes commercial printers. Among them are the packaging players, publishers and consumer printers who are Fujifilm's main customers. In recent years, thanks to technological solutions in the large format UV inkjet, the company has also successfully entered the signage business.
Fujifilm provides analog and digital solutions to many customers through its partners. As the industry grapples with the post-pandemic impact, the market for quick, personalized, and short-term lead times is positively impacting the digital realm as the Japanese manufacturer also continues to improve the market. efficiency of its analog activity.
PW: In the months leading up to the pandemic, we visited five Acuity customer sites in India and spent considerable time in the factories. We felt there was a huge knowledge gap between the high-end capabilities of UV trays – and the low technology quotient among print buyers.
KI: There may be world-class technology available, but we also need the expertise and the ability to use and get the most out of it. In some cases this may be true as you mention, however, it is okay to recognize that in other cases customers are also giving us insight into how best to use a system.
PW: You have unveiled your new line of Acuity printers. How will this help the large format printing business to add value and solve the problem of creativity?
KI: We have launched the new product line (Acuity Prime, Acuity Ultra R2 and Acuity B1). It is a combination of trays, roll-to-roll systems and B1 large format systems. These are systems capable of handling rigid and flexible supports. It is a benchmark platform for versatile print production, providing a wide range of high-value printing. There are unique features in each product that help broaden a printer's creative options by providing excellent return on investment (ROI).
PW: The way everything works in linear series means that the large format printing department is the last to be involved in the process. This means that great ideas never come from the graphic arts segment. Can a manufacturer like Fujifilm help reframe / recontextualize / reconceptualize the print debate?
KI: Not sure that this linearity is true for all companies. You see, I know some FMCG companies that have involved their print service providers during NPD (new product development) and concept design. It also depends on the ability of the Print Service Provider (PSP) to influence the changes. The same goes for marketing communications.
Sometimes the best way to disseminate information comes from the person who prints
them. Since he works for various companies and industries and knows the best way to do things. Agile companies and progressive vendors maintain this channel of communication.
PW: What's the latest on Fujifilm's strategic merger with Xerox?
KI: Although our agreement with Xerox has expired, they have been our important business partner and may be in the future as well.
PW: Will Fujifilm continue to be the OEM of Xerox?
KI: We are unable to comment on their OEM sourcing policy.
PW: So who sells which products and under which brand?
KI: We holistically engage in the graphic arts industry by providing a wider range of solutions, including Xerography POD.
PW: What was the response to the 2021 virtual exhibition?
KI: The 3D Virtual Exhibition was a mock event in which Fujifilm showcased a plethora of products related to various segments of the printing industry. From untreated plates for general commercial printing, to digital color and monochrome toner solutions in the POD space, to the flagship product and new JetPress 750 S B2 inkjet technology aimed at a broad segment of the market. We also unveiled a new range of flexible packaging and label printing machines and finally new products in the industrial and signage sector.
Site navigation was very user-friendly and customers could choose whatever technology they wanted to preview. There were product videos, simulations, descriptions as if you were witnessing a real physical event.
PW: Which knowledge sessions should you attend?
KI: The July 7 live seminar titled – Print More Deliver More – was interesting. The session on the future of digital flexible packaging on June 25 was also very enriching. PrintWeek readers can visit the exhibit and view the recording. Another one that I would like to highlight was a session by Marco Boer on the challenges and opportunities for commercial printers after Covid. Thousands of people visited the virtual exhibit, and a large portion were from India.
PW: Fujifilm is rebranding itself in the digital space, what is the ripple effect for a market like India?
KI: It's not like we're renaming ourselves. Not to mention rebranding in the digital space. We have always been a partner and solution provider for the graphic arts industry with the highest quality and widest range of products, from analog to digital. However, I believe that only the highest quality is not enough in India.
We need to Indianize our solution so that we can deliver it to customers here. It is therefore essential for us to hear the voice of the customer and that of the partner to market our new solutions. We're waiting impatiently.
PW: Objectives for the next 12 months?
KI: Establish a unique position through the large-scale introduction of non-process offset plates and digital inkjet and xerographic presses for the Indian graphic arts industry.
About the announcement of a new product at the Fujifilm virtual event
Commercial printing: JetPress 750S (fastest sheet-fed inkjet press in B2 format).
Labels & Packaging: JetPress FP790, a web-based digital flexible packaging machine.
Short-run digital printing: Revoria, which are digital color and monochrome toner-based machines.
Signage and industrial production: Acuity Prime (flatBed) and Acuity Ultra 2 (roll-to-roll 3 meters wide).
Plates: Offset Plates: ZX treated untreated plates with faster output, higher durability, better visibility and rugged scratch resistance.
/ features / know-thyself – message-de-fujifilm-to-printland – the-noel-dcunha-sunday-column-54846
Know Thyself: Fujifilm's Message in Print – Noel D'Cunha's Sunday Column

https://www.printweek.in/Utils/ImageResizer.ashx?n=http://img.haymarketsac.in/printweek/5a269c5b-e573-45a8-b55f-f61c0ede3af0.png
[ad_2]