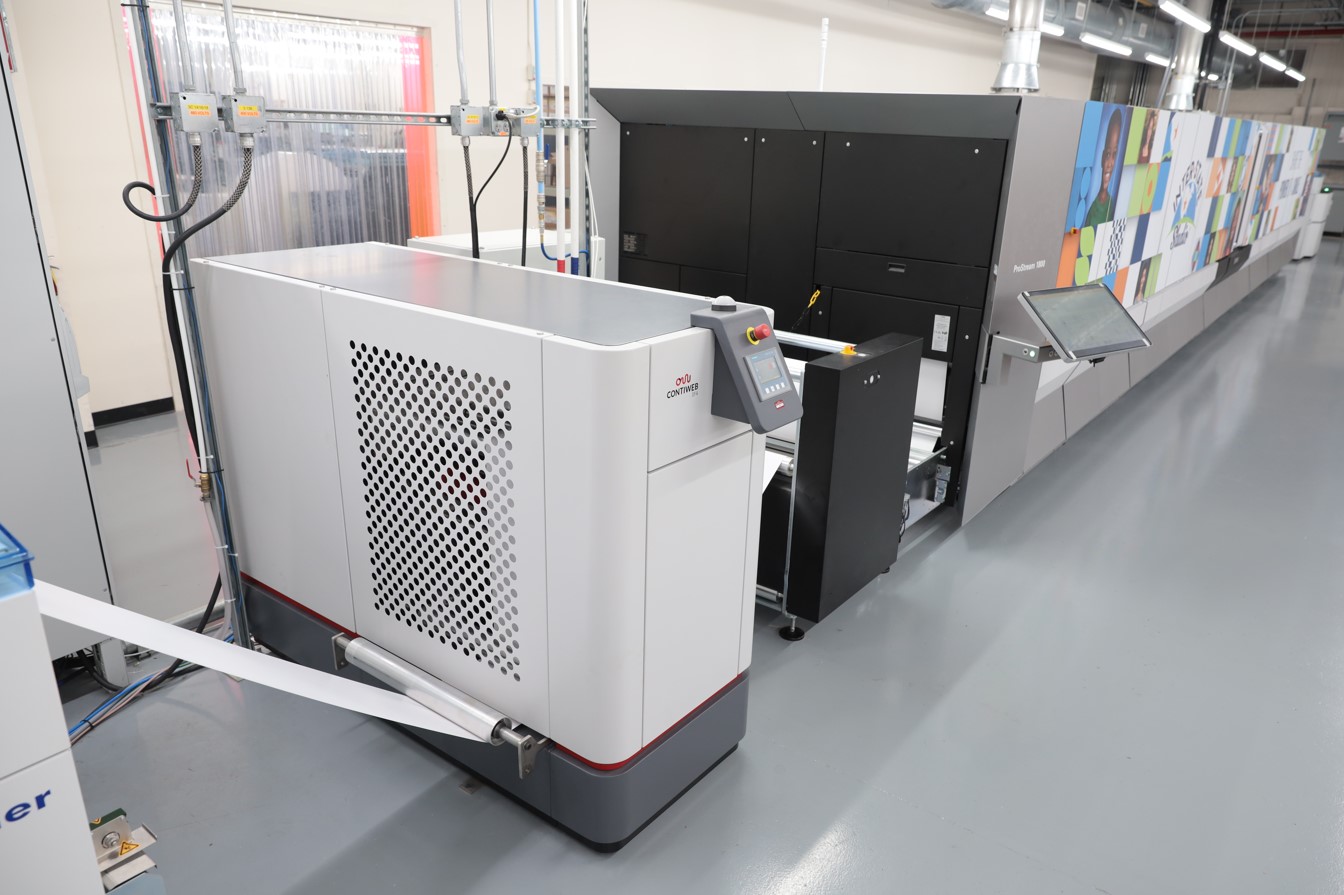 Inter-State Studio Installs First Contiweb Digital Fluid Applicator in the United States
Contiweb, a specialist manufacturer of web drying and processing equipment and provider of integrated technical solutions for web offset printing, packaging and digital printing, announced that Inter-State Studio, a specialist in industry leader, installed a Contiweb DFA-560. In cooperation with Canon Solutions America, Inter-State Studio is the first US customer to purchase the DFA-560 in line with the Canon ProStream 1800 inkjet web press.
Family-owned Inter-State Studio has been serving customers nationwide since 1933. The Canon ProStream 1800 inkjet web press is the company's first web-based inkjet press and is primarily used for the printing of directories. The company serves approximately 3,500 schools in all fifty states of the United States, with orders of up to one million directories for a year, often on short notice during holiday periods.
"We are often under intense time pressure to produce directories on such a large scale. That means we need every advantage we can get and that's where Contiweb's DFA solutions will really help," says Brian Dieckman, Manager Engineering & QA. "Canon led us to Contiweb and the DFA will help us charter somewhat uncharted waters as this is a relatively new application for inkjet printing."
The Contiweb DFA-560 is a self-contained fluid applicator that uses tap water and surfactant for intelligent rehydration of paper processed by an inkjet web press. It offers a water-only or water-silicone substrate application and mixing system.
Accurate rewetting is achieved by individually controlling the rewetting process for each side of the paper. This process improves the runnability of lightweight paper applications that require post-process finishing. As an option, the DFA-560 can also apply silicone, which helps stabilize the paper after printing, especially for heavy substrates that have high ink loads. This maximizes output quality before finishing while improving the overall user experience.
"Following the success of this product in Europe, we are excited to replicate this success in the United States, and we are confident that Inter-state Studio is the first of many customers, especially following our agreement with Canon Solutions America" , says Robert Bosman. , commercial director at Contiweb. "Contiweb has a long tradition of smooth application in web offset and has successfully applied this knowledge to web-fed inkjet over the past few years. We're thrilled with this announcement, and it's great to hear that Inter-state Studio had a smooth installation process, which we're proud of.
Source: Contiweb
The preceding press release was provided by a company not affiliated with Print impressions. The views expressed herein do not directly reflect the thoughts or opinions of the staff of Print impressions.