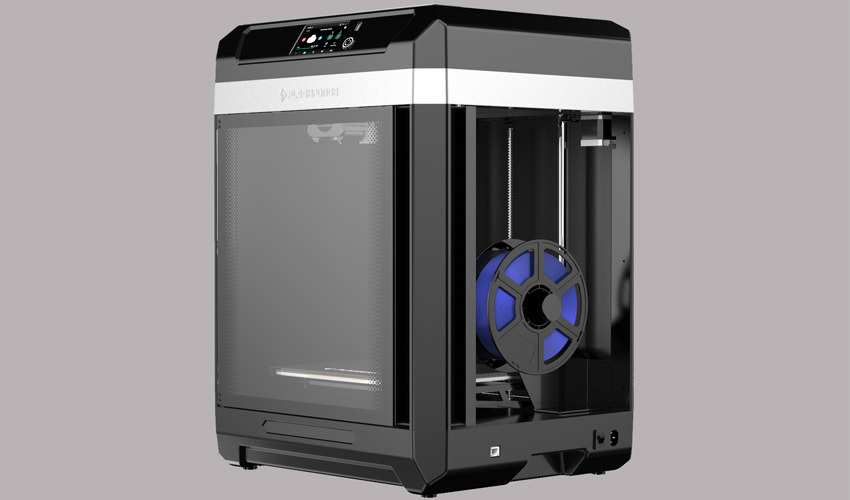 Guide 3, the new professional 3D printer from Flashforge
Chinese manufacturer Flashforge has announced the launch of a new professional FDM 3D printer, the Guider 3. Designed for the production needs of small and medium-sized businesses, the machine is fast, with a compact and lightweight design to ensure flexible production and efficient. The Guider 3 is part of the Guider line of professional, industry-focused machines. It joins the Guider 3 Plus, a fast and quiet 3D printer compatible with a wide range of thermoplastics.
In June, Flashforge introduced the Guider 3 Plus, a solution designed for rapid prototyping of large-scale models such as architectural models, action figures and movie props. The printer stands out for its high printing speed while maintaining a high level of precision. However, Flashforge was quick to launch a new product, this time aimed at digital production for small and medium-sized businesses. The Guider 3 was designed to meet the needs of production: but what exactly are its features? And what can we expect from this new professional machine?
The main features of the Guider 3
With a coreXY structure that supports a maximum print speed of 250mm per second, the Guider 3 has a print volume of 300*250*340mm. It offers a complete workflow for professionals with a limited budget and work environment. The printer is compact and incorporates a real-time monitoring system, resuming printing in the event of a power outage, thus ensuring stable and continuous printing 24 hours a day.
In terms of material, the structure of the Guider 3 is made of aluminum, with an outer shell made of durable and lightweight ABS and acrylic sheets. The machine is indeed 20% lighter compared to the previous generation of Flashforge 3D printers. Its printing plate is made of glass, but users can easily switch to a flexible steel plate according to their needs. They will also be able to rely on an automatic leveling of the printer bed which has been optimized by the Chinese manufacturer. It has integrated an inductive proximity sensor which checks that the bed is as flat as possible, logs the data and compensates for the height of the plate relative to the Z axis when printing.
Finally, the Guider 3 is compatible with a wide range of thermoplastics thanks to an open system. Equipped with a dual gear extruder, the filament feeding force is increased by 150% and the risk of nozzle clogging is reduced. The extrusion temperature can reach 320°C. Thus, users will not only be able to use standard filaments such as PLA and ABS, but also PETG, PA, PC, ASA and HIPS.
Flashforge enters the professional market
All of these features demonstrate Flashforge's commitment to delivering a reliable and durable solution that remains accessible and easy to use. Flashforge thus confirms its intention to position itself on the professional 3D printing market, whether for prototyping needs or for small and medium series production. The company's product range currently covers all these needs and is aimed at a variety of sectors. Take, for example, its Creator 4 line, designed for a wide range of high-performance end-use applications across multiple industries such as automotive, medical and consumer goods. With the launch of Guider 3, the Guider 3 series now meets rapid prototyping and small batch production requirements.
If you want to learn more about Flashforge's new Guider 3 machine, please click HERE. Also, if you need a custom solution for your digital production project, don't hesitate to contact the Flashforge team. They will suggest the best printer based on your demands and budget.
What do you think of the Flashforge Guider 3 printer? Let us know in a comment below or on our LinkedIn, Facebook, and Twitter pages! Don't forget to sign up for our free weekly newsletter here, the latest 3D printing news straight to your inbox! You can also find all our videos on our YouTube channel.
*Cover photo credits: Flashforge