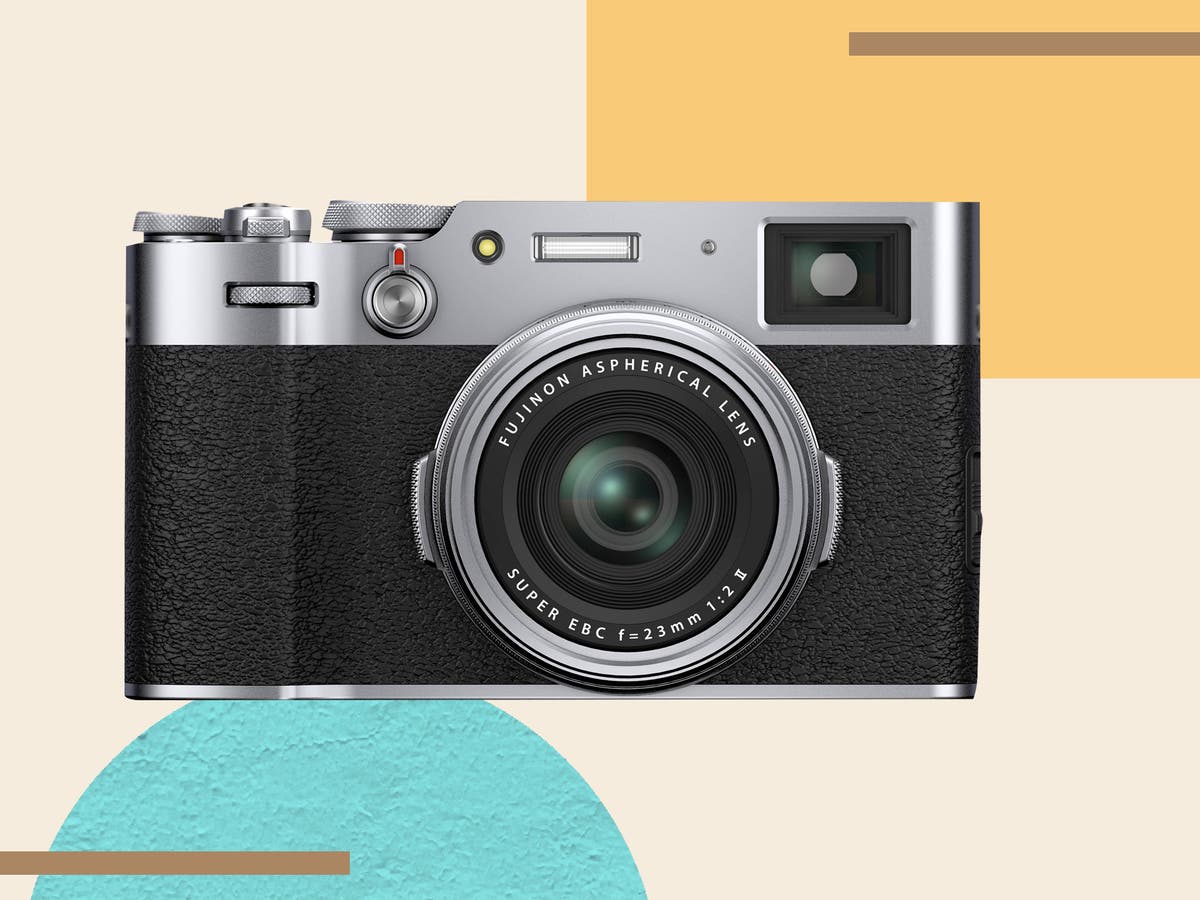 Fujifilm X100V camera review: retro styling, rugged design and timeless features
[ad_1]
Buy now £ 1,299, Johnlewis.com
Megapixels: 26MP X-trans sensor
Lens: Crepe 23mm F2
Filter: LCD touchscreen rear panel
Video: 4K at 30 fps
Filtered: 4-stop ND filter
Evaluation: 9/10
First impressions
Out of the box, you're greeted with a nice retro design that will be familiar to Fujifilm aficionados, and in appearance it looks a lot like previous incarnations of the X100 series. We liked that it comes with a hybrid optical / digital viewfinder, which brings the camera closer to the compact setups of yore. The black and silver option is particularly attractive and we liked the overall styling and setup.
In the hand it looks small and compact but, due to the device's large entry-level SLR-style sensor, it doesn't immediately feel geared towards the lightweight market. We had no trouble slipping it into our pocket for a day's use, but if portability is your key buying criteria, you might want to take a look at your options first. A good camera bag gets around this problem and also provides additional protection for the camera.
Speaking of protection, we liked that Fujifilm protected the camera from the elements – with dust and splash protection – which is a great feature that will appeal to documentary and nature travel photographers. . It's a bit of a shame that you have to buy an additional filter to provide the same protection to the lens, but the AR-X100 Adapter is available for around £ 40 extra. Third party parts are also available.
Objective and image quality
The 23mm lens offers a semi-wide angle, but you can purchase add-ons that provide both 28mm and 50mm optics. They are available separately and cost around £ 300 – so not cheap – but that broadens the camera's appeal for a range of types of photographers. It's nice and quick at F2 and, although it's driven by new software and has been totally redesigned, it looks very familiar to the previous X100 examples. Fujifilm offers a range of small cameras with interchangeable lenses, but if you're looking for a compact setup that takes the hassle out of you, we think this is the best thing to do.
Read more: 6 best drones for beginners: take to the skies with these entry-level models
The photo quality is good, with a central focus and excellent correction at the edges of the frame which avoids distortion. The ND filter operates at four stops, which makes it very useful for obtaining uniform light in landscapes in particular. We especially liked the sharpness of the images close to the camera – the lens will focus at just under 4 inches and display significantly better quality than previous versions. In general, there's a crisp, vibrant, and clear approach to the images it creates without too much smoothing and with the generous size of the sensor it looks a lot like a high-end product.
Characteristics
Detection of faces and eyes in images comes standard, along with a series of features that make JPGs editable on the device itself, with software that does a great job of enhancing colors, noise reduction and accentuation of details. There are also a number of film simulations that add grain, noise, and general imperfections that we're more used to seeing on older 35mm cameras. The tilting touchscreen works great – it's decisive and responds very well to inputs in terms of autofocus and setting menu items. The body controls, ergonomics, and handling are impressive and have a very old-fashioned feel – the dial at the top, for example, has satisfying indents and looks a lot like cameras from a bygone era – not just in this case. , that is a bad thing.
If you like the video, you won't be disappointed either. The camera delivers 4K at 30 frames per second, and while the device isn't really set up as a filmmaker unit, the output is great, crisp and crisp. While the autofocus works great, there is no image stabilization so images can look quite shaky. If you really love movies, it might be worth taking your eye elsewhere.
The verdict: Fujifilm X100V compact camera
Overall, we were very impressed with the Fujifilm X100V. It's by far the best X100 to date and the overall usability and image quality are on par with some much more expensive cameras. That being said, we also think part of its appeal comes from its retro styling and overall look – it's a sturdy design, uses classic and timeless features that work well, and it feels like an upscale piece. and well thought out of modern technology in an ageless body.
Images have crisp, vibrant quality with warm color reproduction that echoes old 35mm cameras of yore like the Olympus Trip, but with the clarity and crispness of modern digital technology. By exploring the many editing options available in the camera itself, it is possible to achieve some very enjoyable retro-inspired looks, with decent color grading variables and grain presets that give the images in timeless quality, ready to be shared on social networks or other devices using wireless and Bluetooth connectivity.
However, it is undeniable that this is an expensive setup. There are deals available, but they tend to be over £ 1,200 which is a lot of money for a compact camera while SLR and bridge camera deals are often much cheaper. The only other camera like this is the Leica Q2 (£ 4,500, Wexphotovideo.com), which really only caters to the luxury market and therefore makes it seem like a very good option.
[ad_2]