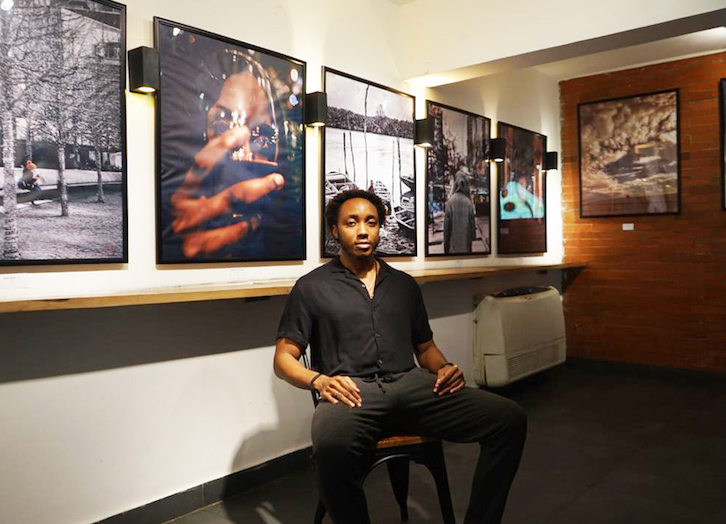 EVALUATING EMOTIONS THROUGH HIS VISUAL STORIES, ALVIN UKPE ENCOURAGES DIALOGUE
[ad_1]
Demonstrating an intuitive understanding of depth of field and his creative choice of subjects, Alvin Ukpe's photographs, shown in his recent exhibition in Lagos, shine with promise, says Okechukwu Uwaezuoke
Solitude – Alvin Ukpe's invitation to local connoisseurs to explore the streams of consciousness bubbling beneath his still images – smacks of the most admirable type of heroism. In a way, this hitherto unknown photographer needed this grand entry into a vibrant exhibition circuit. Therefore, the recent two-day solo outing at the South Eatery and Social House along Younis Bashorun Street on Victoria Island, Lagos seemed designed to achieve its goal of entering the Lagos photography scene.
On the inspiration for the exhibition, which opened on Saturday August 14 and ended Sunday August 15, the Nigerian-American photographer hinted that it came from the state of his subconscious at that time. of his life. The pandemic-induced closures had just been eased and he had embarked on what he called "a travel photography trip." For him, the trip was not only an opportunity to escape the depressing mood that followed lockdown, he also needed to be alone with his thoughts and find time to explore. "I found out that I was subconsciously filming the 'Loneliness' theme when I got home and looked at my recent shots," he recalls. "The pictures spoke to me and I decided to put together a collection and use it to inspire the world."
Trust this alchemical curatorial trick to divide the exhibit into two main, cohesive segments. Perhaps this is why one of the segments, which seemed central to the theme, only featured works done in monochrome, while the other segment featured a collection of color photographs.
Yet there was something premeditated about the works – all produced in 2021 – that belies the photographer's claim that they are "an organic collection of serenity, sadness, tranquility, loneliness, peace and pain. ; all the emotions we tend to feel when we are alone, isolated, reclusive or introverted, basically when we are in a state of loneliness.
What could have been hiding in the mind of the bushy-haired 26-year-old when he photographed a lonely woman enjoying the crisp, wintry morning air in the park? "She says coming here so early gives her time to reflect and get back in shape for the day," he wrote in the explanatory note to the photograph, titled "Early Bird," adding with all the puns: "We are both ahead of the birds; in this case, I am the bird and this image is my worm.
Perhaps the feeling of loneliness is more evident in the photograph titled "Me Day", in which a man is lying on an armchair in what appears to be a beach. It must be a beach because part of the photographer's explanation corroborates it: "He's at peace watching the sunset and listening to the ocean waves as they hit the shore. If this photograph is not the result of Photoshop manipulation, the subject succinctly lends itself to the title of the exhibition.
Ukpe, who also goes by the professional nickname NYV (an anagrammatized DIY of his first name Alvin), tells compelling stories through his lens. He says his penchant for natural and minimalist expressions is intentional and aims to "reveal originality and a connection between his audience and the subject of each image." And speaking of this connection, he adds that it "evokes emotions which arouse a dialogue in oneself".
But the chances that the clean content of his photographs may have offered more incentive for disjointed viewing cannot be discounted. And, indeed, there isn't much about monochrome photographs like "Forlorn", "Self-Reflection", "My Corner", "Unaccompanied", "Sick of All This Noise", "Social Distancing" and "Fear of Falling", to stick around them. This is even when they can be recognized as very engaging in their sublime simplicity.
Nonetheless, West Virginia University, a United States agribusiness and rural development graduate, urges the public to "look at every picture with an open mind," as this would allow their "consciousness to float through the loneliness of [his] expressions. "
As a largely self-taught photographer, who only recently – as recently as 2018 – entered the Lagos photography scene, he should be more circumspect in making judgments on a scene that has not only produced regulars. of the Bamako Photography Biennale, but also given the LagosPhoto Festival a reason to exist. He bases, for example, his impressions of the Lagos photography scene on mistaken assumptions that his colleagues focused primarily on portrait shots. "I quickly expanded my content beyond portraits, to cover other salient areas including landscape photography, concept photography, product shots, photojournalism, street photography and much more. . "
But none of the above gave his exhibition its unmistakable quality. Rather, the halo of promise that shines around his works can be attributed to his intuitive understanding of depth of field and his creative choice of subjects. Clearly, he was past those years when his father's passion for photography fueled the glowing embers of his interest in photography.
His father, he recalls, bought the latest cameras and photographic accessories, which he ultimately never used. "Out of curiosity I started using them to take pictures of anything and found out that I was good and that I had an eye for it. I decided to make it a hobby until about two years ago, when I was offered a good price for my photos and the rest is history.
And speaking of "history," there has so far been nothing more historic in his career than his resignation in June of this year from his job in the oil and gas industry to devote himself to his passion for full-time photography.
[ad_2]