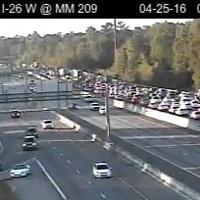 Editorial: Our roads are more dangerous today. Cameras can help. | Editorials
One of the early benefits of the pandemic was that staying home reduced frustrating congestion on our freeways and other roads. But we also learned there was a dangerous downside to these cooler, emptier streets: increased speeding and riskier driving.
Technology, especially cameras, could play a role in reducing this danger.
Technology will not replace the state troopers, police officers and sheriff's deputies who patrol our roads, and the use of cameras to enforce speeding and other traffic laws must be implemented. work with caution. But they could be a useful addition to law enforcement's efforts to keep everyone who uses our roads safe, an increasingly difficult job. Federal statistics show road deaths hit a 16-year high last year and set a record high in the first quarter of this year. These numbers include several high-profile fatalities in the Charleston area.
We are encouraged that North Charleston Councilman Ron Brinson recently wrote to two key state lawmakers seeking their support in changing state law to allow local governments to use cameras to catch people running red lights on city streets and, in some areas, for cracking down on speeding tickets.
'A growing grievance among constituents on my council is the lack of adequate traffic laws and enforcement,' Mr Brinson wrote. "This trend is on the rise. … It underscores the unfortunate and merging realities we have all seen in recent years – fewer police resources available for traffic enforcement and the growing number of drivers who flout laws, ignore signs and signals, and endanger public safety with "misbehaviour" driving habits."
About 350 communities across the country use cameras to enforce red lights, and nearly half of them use cameras to enforce other traffic safety laws. Most states allow cameras to apply either red lights or speeding tickets, or both. And cameras are getting better and cheaper: for example, some traditional toll booths have removed their human tolls and switched to cameras only to charge a car owner to cross a bridge or use a toll road.
South Carolina is one of six states that ban both red lights and speed cameras. His ban went into effect more than a decade ago, when the Legislature passed a law banning direct camera enforcement of traffic laws in response to the city of Ridgeland's use of cameras in 2010 to fine speeding along Interstate 95. The South Carolina Traffic Enforcement Commission reviewed the matter and recommended the ban, but it exempted the state Department of Public Safety. The commission expressed concern about whether the state had enough judges if local governments were also deploying cameras.
Mr. Brinson's letter was sent to the senses. Larry Grooms and Sean Bennett and State Rep. Chris Murphy, but we urge all lawmakers to consider revising state law to allow cities and possibly counties to use cameras to enforce the code of road in their own streets. It would be a kind of experiment, a measure of the effectiveness of the cameras as well as the reaction of the public. If successful on both counts, lawmakers could then consider expanding the use of the cameras to national roads, major freeways and perhaps even freeways.
It makes sense to go slow with such an experiment and collect data on the effectiveness of the cameras. The Centers for Disease Control and Prevention notes: "The effectiveness of red-light camera programs has been a source of controversy in the research community. The methodologies used to assess effectiveness have varied, as have the conclusions drawn from different studies." His analysis also noted that public polls found strong support for red light cameras and somewhat weaker support for speed cameras.
The National Conference of State Legislatures notes that drivers running a red light caused an estimated 139,000 injuries and 846 deaths in 2018, according to the Insurance Institute for Highway Safety, while speeding was a factor in 26% of all motor vehicle fatalities.
If our state legislators allowed our cities to experiment with using traffic cameras to enforce red light violations or even speeding on certain streets, there is no guarantee that many cities would jump at the chance. But if Mr Brinson's colleagues agree his idea has merit, they should be allowed to use these tools to help make dangerous roads safer.