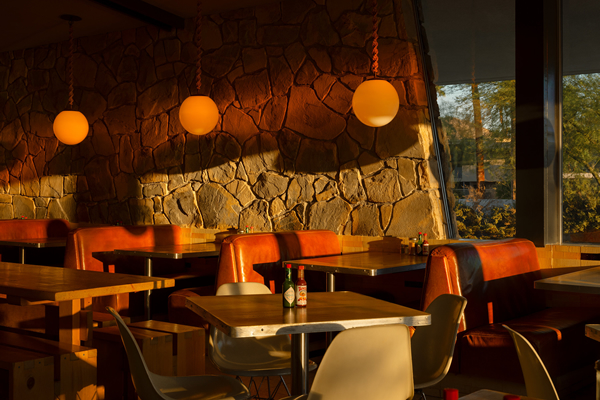 4 fabulous brunch options in Palm Springs
[ad_1]
Brunch – that all-day weekend affair – is where the days can begin and end. In a city that already rises early, brunch has a special place among meals. With the weather cooler, there's no better time to travel to Palm Springs for a taste of the brunch festivities it has to offer. Below are four distinctive – and distinct – brunch options.
Jake: Run by industry veterans (and gay men) Chris Malm and Bruce Bloch, Jake's is an institution, as much a destination as it is a place for locals. Jake's goal, says Malm, is to make it "a fun, hip dinner with good friends."
At brunch time, plan to hang out with other new friends, Mary and Rita. Jake's has one of the most comprehensive and diverse brunch lists in Palm Springs: 10 Bloody Marys, six mimosas, six margaritas, seven "refreshments," several other cocktails and, of course, rosé. It's no surprise that the bartender reaped the rewards.
The shaded and comfortable patio is also a hit. Lined with vertiginous Ficus trees 6 meters high, the locals call it "the ivy" of Palm Springs. In winter there is room for radiators; summer brings gentlemen.
On the plate side, it's the Benedictine crab cake that regulars appreciate. There's also a tempura soft-shell crab BLT that's a menu staple. Malm points out that the truffle-infused tater tots "are incredibly popular".
Finally, if you're particularly lucky you'll meet Jackson: a West Highland Terrier who serves as a mascot (although he won't serve your mimosa).
Oscars : Located in the heart of Palm Springs, Oscar's is the city's epicenter for full octane energy. While the party rarely stops at Oscar's, Sunday brunch makes it an 11.
The restaurant didn't hesitate to baptize its Sunday event as the "bitchiest brunch". It does not hold back. The star of the drag queen of the series is Anita Rose; it's backed up by a rotating cast, bringing a distinctive attitude and style to brunch. Shortly after the pandemic restrictions were lifted, Oscar's relaunched brunch, taking advantage of one of its main selling points: a patio that can accommodate up to 120 people.
Dan Gore, the owner and gay, said the restaurant quickly outgrown an hour-long show. They quickly added a second. There are now three full seats (9 a.m., 11 a.m. and 1 p.m.); two outside and one inside.
One of the reasons this brunch was so popular is that Oscar's can attract "different types of families and feel welcome and accepted." It is not only entertainment by fabulous artists, but also a loving and safe space. It is an event for all ages.
Of course, Oscar's serves unlimited mimosas; there are also large Bloody Marys (16 ounces) available.
For dinner, it's a classic egg-focused menu, with omelets and egg benedict. Pancakes, French toast, breakfast tacos, bagels, and lox complete the menu.
Once brunch is over, adult diners tend to gather for another of Oscar's mainstays: afternoon tea dance.
Parker: The epitome of Palm Springs: Parker is an upscale resort designed by Jonathan Adler. Its restaurant, Norma's, exudes this chic brunch style. Norma's serves breakfast all day and night, but brunch is a chance to see and be seen. The large patio and the wraparound orange bench allow you to observe people and observe nature at the same time. Inside, white stone and wood accents keep things cool.
A Parker rep notes that "the breakfast concept at Norma's can be a limitless extravaganza of decadent proportions," something that certainly extends to brunch time.
Diners can start minimalist with an egg white omelet – or go maximalist with the 'billion dollar lobster frittata', on which diners can throw an ounce of Sevruga caviar. There is a plethora of traditional carb-rich dishes, like blueberry pancakes and chocolate French toast. Gluten-free, vegan, and vegetarian options abound.
As for cocktails, a short list of classics (Bloody Mary, mimosa), but also French and Californian roses, as well as glasses (or bottles) of Dom Pérignon and Veuve.
King's Route: Infused with the spirit of the desert, King's Highway brings chic to the land of cacti. Tucked inside the Ace Hotel & Swim Club, King's is a roadside restaurant with retro nods (it used to be a Denny's) and lovely saddle leather banquettes. Khuong Phan, director of food and beverage communications at the hotel, notes that "we've kept the same restaurant vibe and spirit… but we've made it completely contemporary with Southern California."
Beveled mirrors tilt over the bar for covert people-watching; the outdoor patio is just as inviting, located as it is next to the popular swimming pool.
Beyond coffee and pastries, the bottom and pre-dinner entrees include Belgian waffles, bagel sandwiches, and pork sausage-based cookies and gravy. Visitors to the east coast will feel right at home with the smoked salmon platter; locals indulge in King's Highway's hearty and hearty breakfast of eggs, potatoes and sausage. Additional salads, sandwiches and burgers are available after 11 a.m.
To drink, detoxes can choose Sunrise (orange, coconut water, lemon, ginger, turmeric). The date shake is made with local dates, oat milk and vanilla ice cream. Of course there is a Bloody Mary, using a house blend. Another tropical-style drink is Pina Antigua: pineapple rum, rye and banana cream. A popular local bottle store, Dead or alive, takes care of the wine list.
[ad_2]