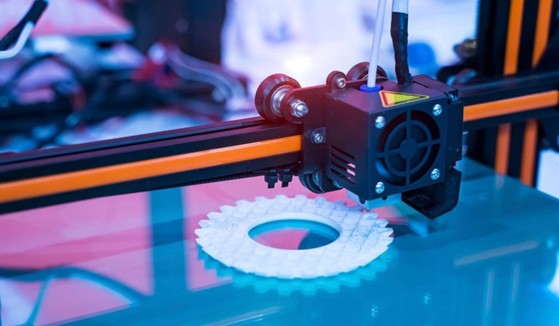 4 benefits of 3D printing, according to an expert
Welcome to Thomas Insights – every day we post the latest news and analysis to keep our readers up to date with what's happening in the industry. Sign up here to get the day's top stories straight to your inbox.
When you think of manufacturing, a certain image may come to mind of American men and women – perhaps in grease-stained overalls – toiling in factories. You can practically smell the sweat and the burnt steel. You can hear the whistle of steam valves, the roar of exhaust fans and the rattling of tools.
In contrast, 3D printing might be more like something only hobbyists reproducing miniatures and artists creating sculptures use. But today, 3D printing is used across industry – for making parts for cars, building homes, and producing custom prosthetics.
If traditional forms of manufacturing work, why are companies like Caterpillar, ExxonMobil, and Volkswagen turning to 3D printing?
"When someone looks at their new product or design, 3D printing is up there on the list alongside other traditional processes like machining or casting," says Greg Paulsen, engineering director at application at Xometry, noting that increased material and surface options, finish selections, and other recent improvements have helped make 3D printing more mainstream.
Based in Gaithersburg, MD, Xometry is dedicated to building the largest and most comprehensive global manufacturing marketplace. The ITAR registered, ISO 9001:2015 and AS9100D certified company provides on-demand manufacturing, with the Xometry instant quote engine allowing you to upload a 3D model to receive instant delivery time, pricing and DFM feedback.
Xometry notes, on its website, 6 advantages of 3D printing:
Quick turnaround
Durability
Complex geometry
Precision
Parts manufacturing
Scalability
We sat down with Paulsen to discuss why 3D printing suddenly seems to have taken on so much momentum in the industrial sector, and he explained four benefits that 3D printing offers to the manufacturing industry.
1. You get almost immediate results
Greg Paulsen (GP): When talking about big supply chain disruptions such as a pandemic, 3D printing became very popular because the minimum requirement was a 3D model. If this 3D model can be generated – whether for emergency personal protective equipment or a workaround for an internationally sourced component – ​​they could get near immediate results. It was huge, especially at the beginning of the pandemic when everything was locked down, especially between March and June 2020 when you saw a lot of responsiveness around this emergency PPE work.
We were making shields, masks, earmuffs and even parts for ventilators and other equipment through several customers. They came to us because we had no disturbances. We had the network. We had the market and we could act as if nothing had happened for these customers. They were able to upload their files, get pricing, place orders, and we had vendors who could make that work.
2. You can experiment more for better product
generalist: Whether you use a service or have someone in-house, 3D printing helps you think about product development a little differently. The analogy I always like to use is when you switched from film to a digital camera. With a film camera, if you're good, you get 28 shots. If you load it a bit lightly, you only get 24-26 shots. Because you had this perceived limit of how many shots you have per cartridge of film — and not only that, you then have to get that film developed — you're very careful when taking pictures. And sometimes those images were blurry, or they just weren't the right shot. So even on this list of 24 plans, you might only have a handful of good ones.
Then you see this movement towards digital. Think about what you are doing with your phone now. You can take a thousand shots and choose the best one. The cost of this data and fast iteration is so low that it is negligible.
By using 3D printing on product development stages, you are able to see these "snapshots" almost instantly, especially compared to traditional processes. You can make judgments and decisions to help improve your product. 3D printing not only helps you move faster through the product development process, it also allows you to improve products because that perceived limitation has just disappeared.
[Get instant pricing, lead time, and DFM feedback for your next 3D printing project here.]
3. You don't need any specialized tools or accessories
generalist: 3D printing is a set of manufacturing technologies. Some technologies are good for rapid prototyping. There are other technologies that are better for end-use production parts, but what is common to all 3D printing is its almost immediate digital production.
I don't need to create specialized work holding tools, fixtures, or hard tools that create a time bottleneck and high cost on an initial order like I would with injection molding. I can just digitally place this 3D model into this digital platform and send it to the printer, and then the printer starts making the part.
4. Costs are no longer prohibitive to serve smaller niche markets
generalist: Usually, you'll have to justify the tool so it's not worth chasing smaller, more niche markets or mass configuring products with lots of custom components. Because 3D printing doesn't need tooling, you can now serve a set of customers that is one or 10 and build a product line around that.
Image Credit: asharkyu/Shutterstock.com
3D printing could take aviation to new heights
Next story »
Learn more about additive manufacturing / 3D manufacturing