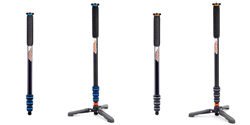 3 Legged Thing Announces New Punks Trent 2.0 Monopods and Kits
We're excited to bring the refreshed new Punks 2.0 look to Trent, while retaining the unrivaled load capacity and impressive extended height of its predecessor.
STAGSDEN, England (PRWEB)
January 18, 2022
Following the recent refresh and upgrade of their Punks tripods to Punks 2.0, 3 Legged Thing are delighted to announce Punks Trent 2.0 – an ultra-tall magnesium alloy monopod available as a standalone monopod or as a kit with the 3LT Docz monopod foot stabilizer. Popular with photographers and videographers, monopods provide an extra level of stability for cameras or long lenses in situations where using a tripod isn't optimal.
Aligning with Punks 2.0 tripods, the Trent 2.0 features new sturdy leg locks that combine knurling with a central rubber grip, for improved leverage even in wet conditions or when wearing thick gloves – common conditions for wildlife and sports photographers. Inside, the leg locks now have the same anti-rotation chicken lips (shims) as current 3LT tripods, making the Trent 2.0 more rigid and stable when extended.
Similar to the new Punks tripods, the Trent 2.0 will now come in two great colorways – Metallic Slate Gray – a favorite of wildlife shooters, and a new Metallic Blue version, like the one seen on the Punks 2.0 tripods.
"Trent has been one of our most popular products since its release in 2018," said Stuart Boston, COO of 3LT. "We're thrilled to bring the new, refreshed Punks 2.0 look to Trent, while retaining the unrivaled load capacity and impressive extended height of its predecessor. We're sure videographers, wildlife and sport shooters will love it!
Trent 2.0 is one of the tallest tripods available, reaching over 2 meters / 6.5 feet high at full extension. It can handle loads of up to 30kg / 66lbs and weighs just over 700g, giving it an impressive load-to-weight ratio of nearly 50:1.
With two ¼"-20 and 3/8″-16 threads on both ends, Trent 2.0 is incredibly versatile. At the top, a spring-loaded combo thread allows a camera to be mounted directly to the monopod, or a tripod head or clamp can be added for quick release. In the base, a 3/8″-16 thread with ¼"-20 adapter allows compatibility with a variety of tripod shoes and with the Docz stabilizer.
The Trent 2.0 also has incredible side-loading capabilities, meaning it can also be used as a boom for a microphone or lighting prop.
An incredibly capable monopod in its own right, Trent 2.0 becomes even more versatile when paired with 3 Legged Thing's Docz Monopod Stand Stabilizer. Docz provides extra support on any terrain, and its center ball joint can be loosened to help users create smooth panoramic shots, or locked in place when vertical support is needed.
Trent 2.0 is available from http://www.3leggedthing.com and all good camera stores from today with an SRP of £79.99 / US$89.99 for the monopod only and from £119.99 / US$139.99 for the Monopod Kit with Docz.
Share the article on social networks or by e-mail: